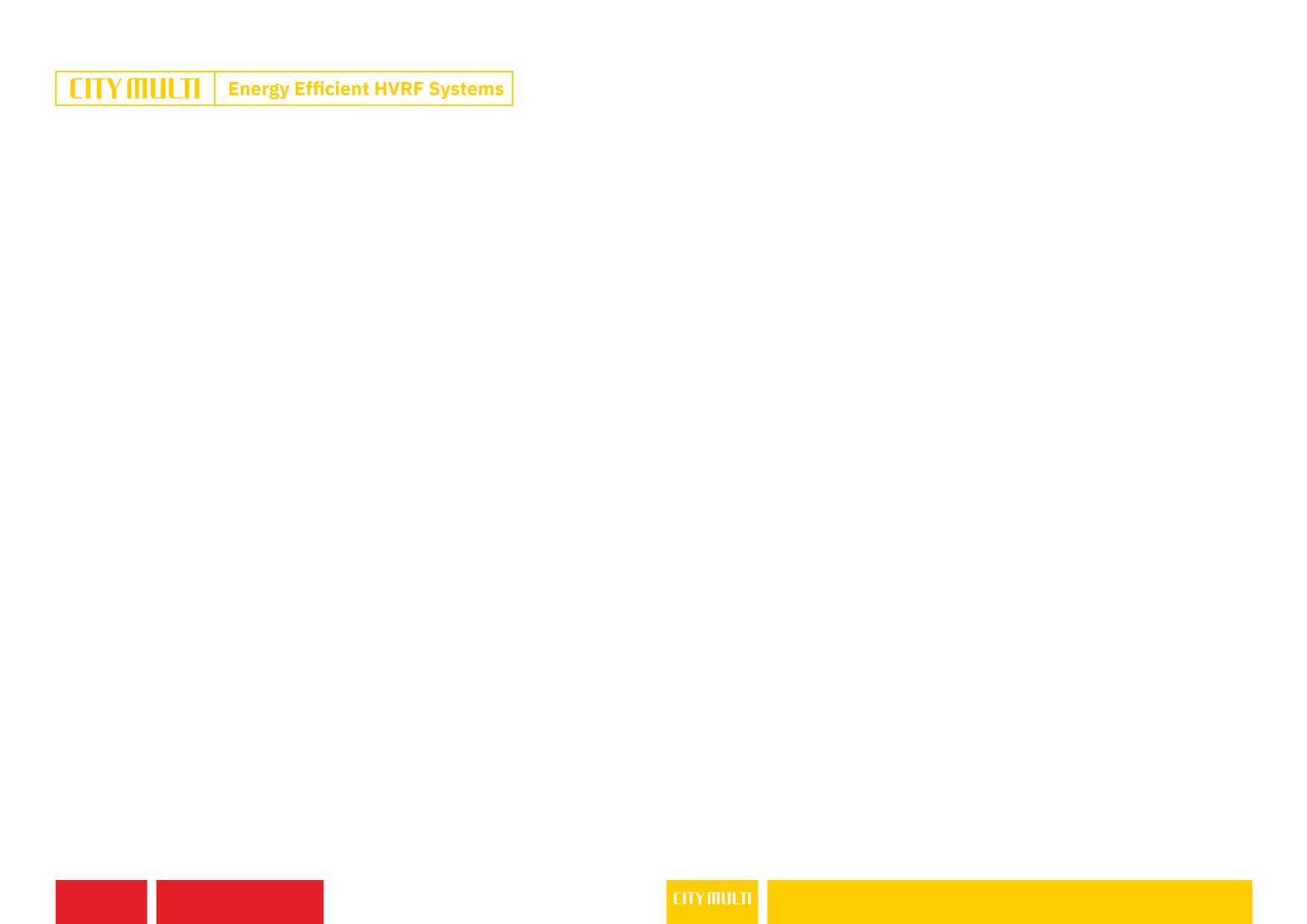 R32 Heat Recovery Outdoor Units
R2 Series High Efficiency (22.4-56kW)
R2 Series Standard (22.4-56kW)
R410A Water Cooled Condensing Units
WR2 Series Heat Recovery (22.4-56kW)
PEFY-WP-VMS1-E Ultra Thin Ceiling Concealed Ducted
PEFY-WP-VMA-E Ceiling Concealed Ducted
PLFY-WL-VEM-E 4-Way Blow Ceiling Cassette
PLFY-WL-VFM-E 600x600 4-Way Blow Ceiling Cassette
PKFY-WL-VLM-E Wall Mounted
PFFY-WP-VLRMM-E Floor Standing Concealed
Accessories / Optional Extras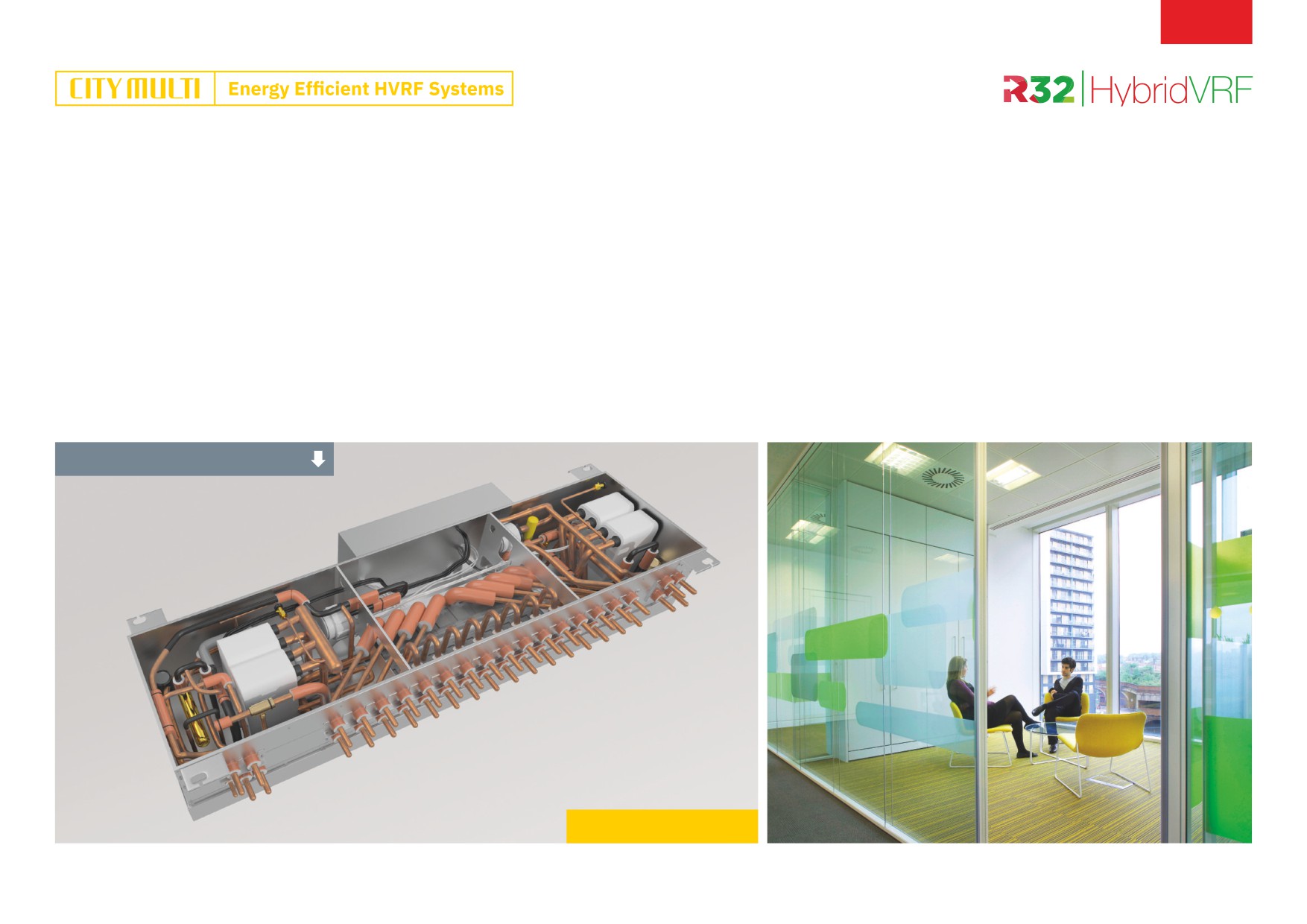 Hybrid VRF (HVRF)
- The Modern Alternative
Hybrid VRF is quick, easy & flexible to design and install using the same control
Hybrid VRF is a 2-pipe heat recovery VRF with water between the
and network as VRF systems. The decentralised system means phased installation
Hybrid Branch Controller (HBC) and indoor units.
is possible with the same high levels of seasonal efficiency expected with VRF.
You can install and design it as VRF whilst enjoying the features of a Chiller system, providing a
With water pipework connecting the indoor units, Hybrid VRF provides
complete modern solution for office buildings, hotels, medical centres, schools, high rise buildings,
comfortable and stable air temperature control with no refrigerant in occupied
shopping centres and other commercial premises. Built and assembled in the same factory as our
spaces, meaning simple compliance to BS EN378 and removing the need
VRF units, it therefore carries City Multi's distinctive DNA in terms of technology, efficiency and reliability.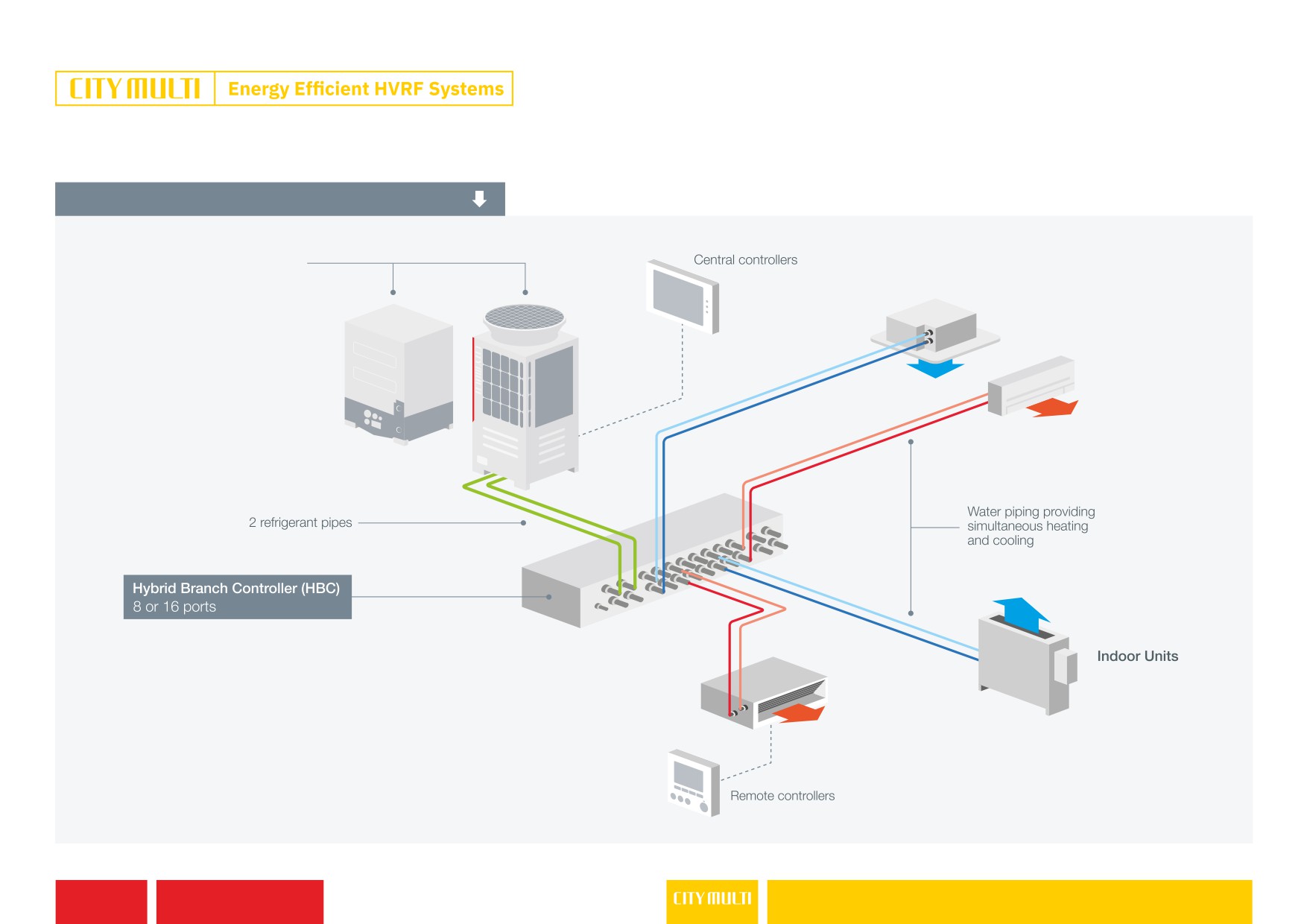 Hybrid VRF System Example
VRF heat recovery outdoor unit
YNW air or YLM water sourced (22-55kW)
Image for representation only
Energy efficient HVRF Systems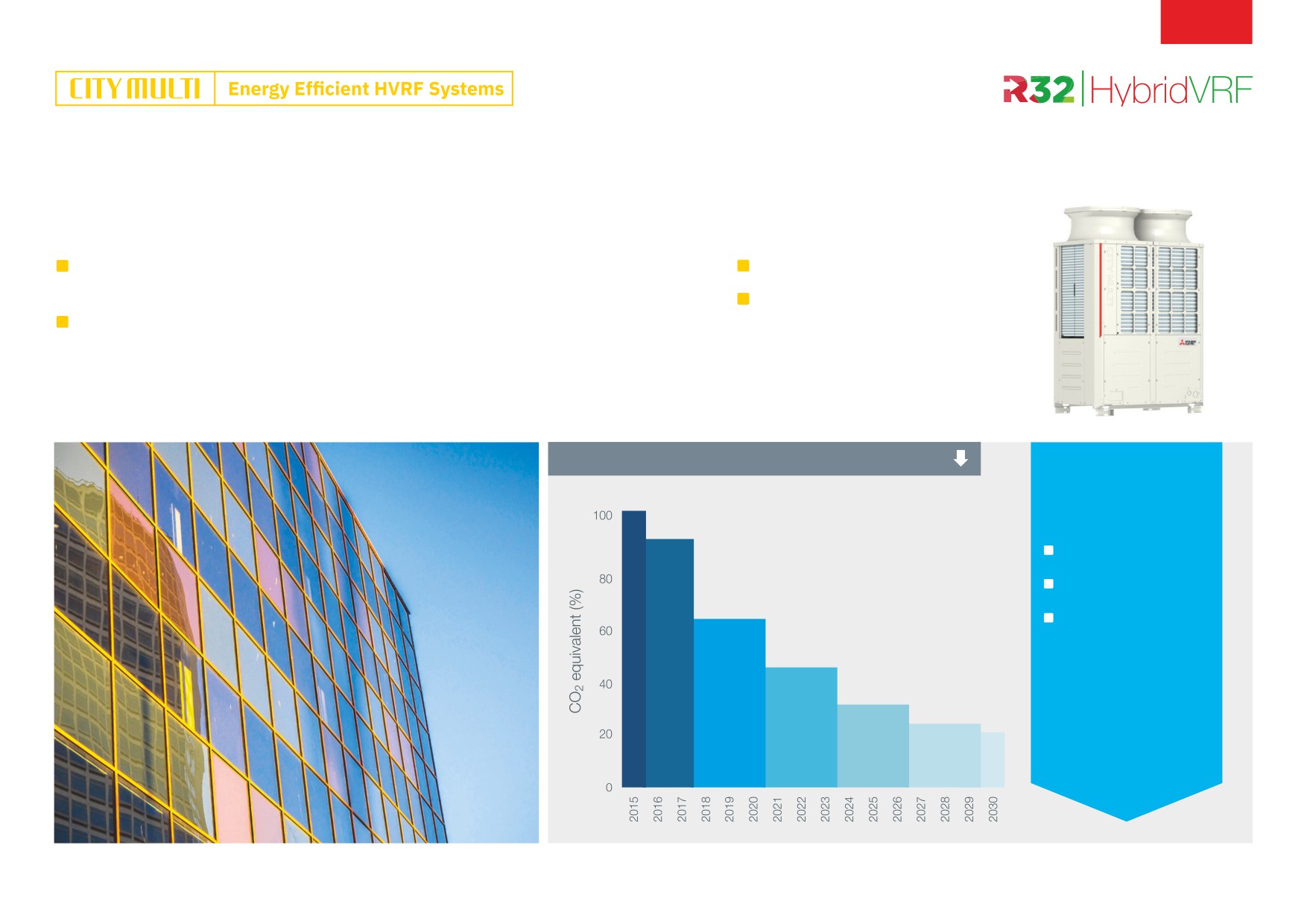 Hybrid VRF Features and Benefits
Flexible application options
Meeting future requirements
Energy and refrigerant legislation
Air Source YNW (22-56kW) - using the latest City Multi VRF YNW technology, including
an aluminium heat exchanger, reduced weight and improved seasonal efficiency
F-Gas phase down - HVRF is a viable
option as we move towards 2030
Water Source YLM (22-56kW) - ideal where outdoor space is limited,
building heat recovery and efficiency is demanded and a water loop is available
F-Gas
- HFC phase down programme
*
potential for both reducing
the amount of refrigerant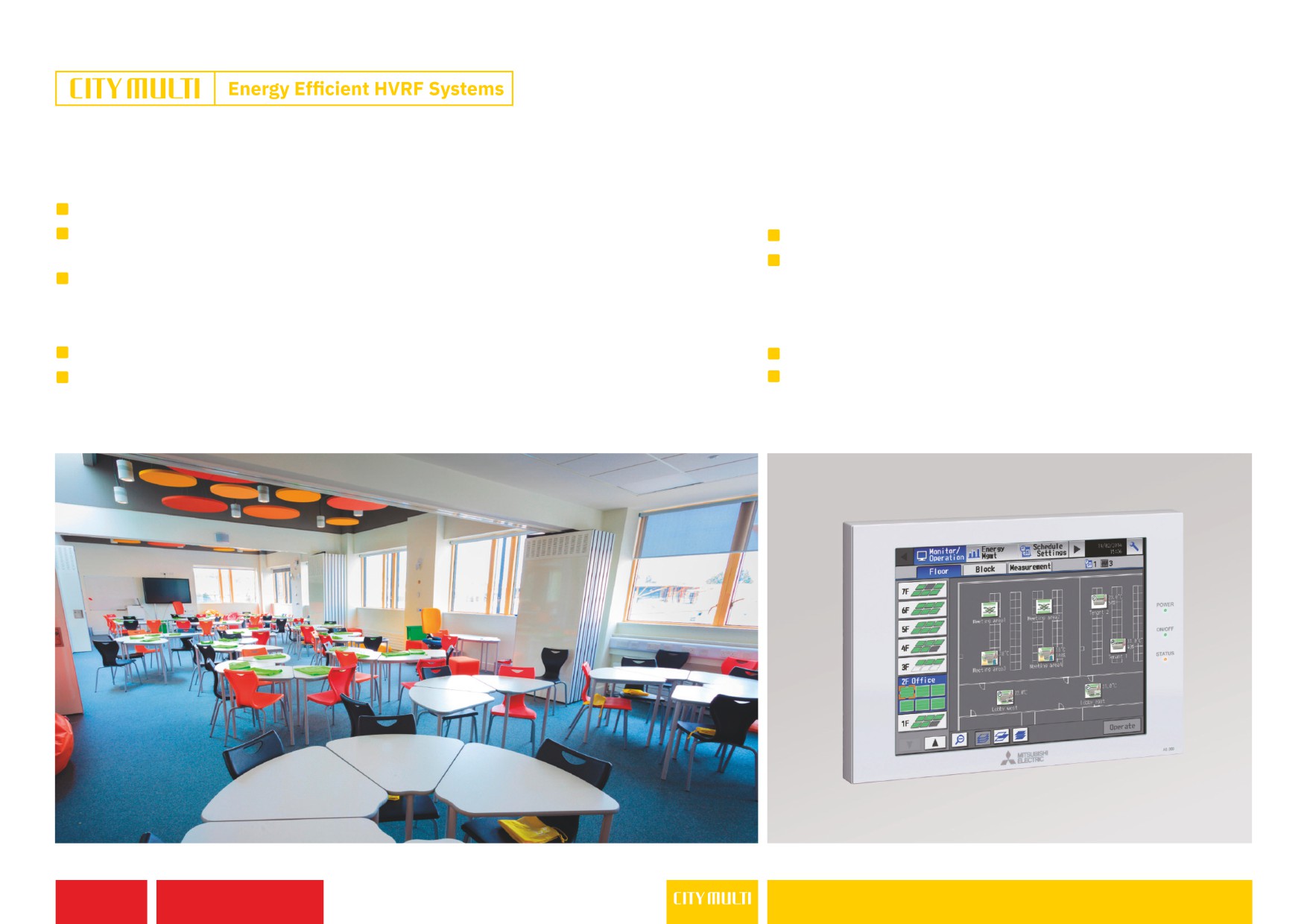 High sensible cooling and stable
Valves, pumps and heat exchangers all contained within the HBC
Commissioning is simple, using standard pipe sizes alongside
Typically 10% increase in sensible cooling vs standard VRF
common third party components
Provides a gradual rate of change of temperature within the
Uses the same controls and M-NET network as VRF
air conditioned space, delivering a comfortable and stable environment
No refrigerant in occupied spaces
Manageable phased installation
No need for leak detection according to BS EN378 refrigerant safety guidance
Modular, smaller footprint and low weight outdoor units
Ideal for hotel bedrooms, hospitals, nursing homes, meeting rooms and
Flexible range of HVRF options - Air or Water source
living spaces where leak detection may traditionally be required
Energy efficient HVRF Systems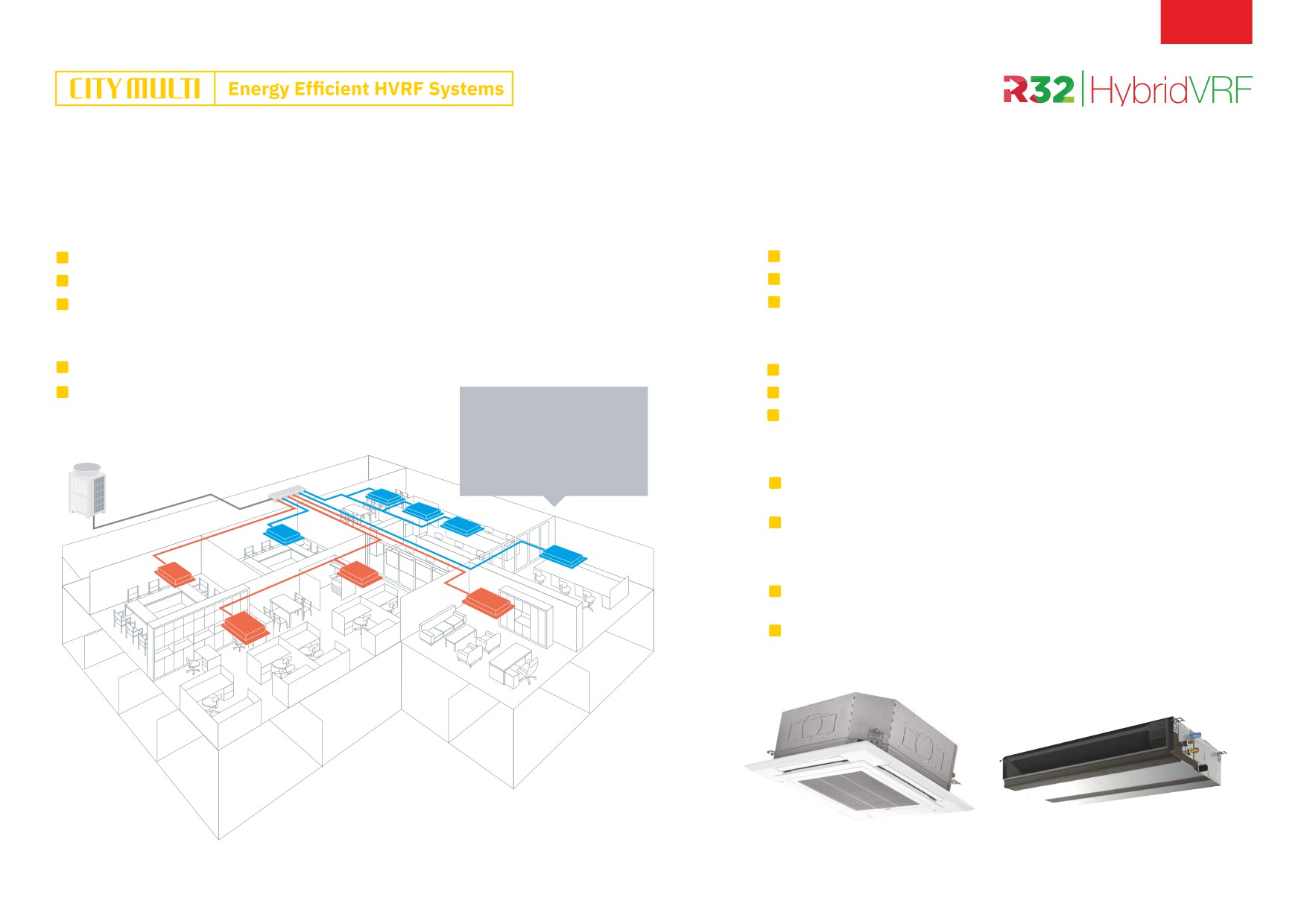 Hybrid VRF Features and Benefits
Simplified 2-pipe design and installation
2-pipes throughout the system - no complex 4-pipe design
Ideal for office fit outs
Flexible design using up to 50 fan coils per system over 4 HBCs
Water piping between HBC and indoor units
Copper or MLC plastic pipe on water side
Easier to isolate and decommission, reducing installation costs
Simultaneous heating and cooling with full heat recovery
Heat recovery defrost method
Between fan coils and building zones
Typical defrost times of 5 minutes with immediate return to heating
Optimise flexibility, operability, comfort and efficiency
Improved comfort throughout the heating season, ideal for office applications
No defrost on Water Source VRF models
The latest YNW VRF refrigerant control plus water side optimisation using
flow control valves, inverter driven pumps and simultaneous heat recovery
Provides only the capacity required, therefore improving efficiency and comfort
Water based fan coils: ducted, cassette, wall and floor mount
chassis units - based on Mitsubishi Electric VRF indoor units
Low noise levels, variable air flow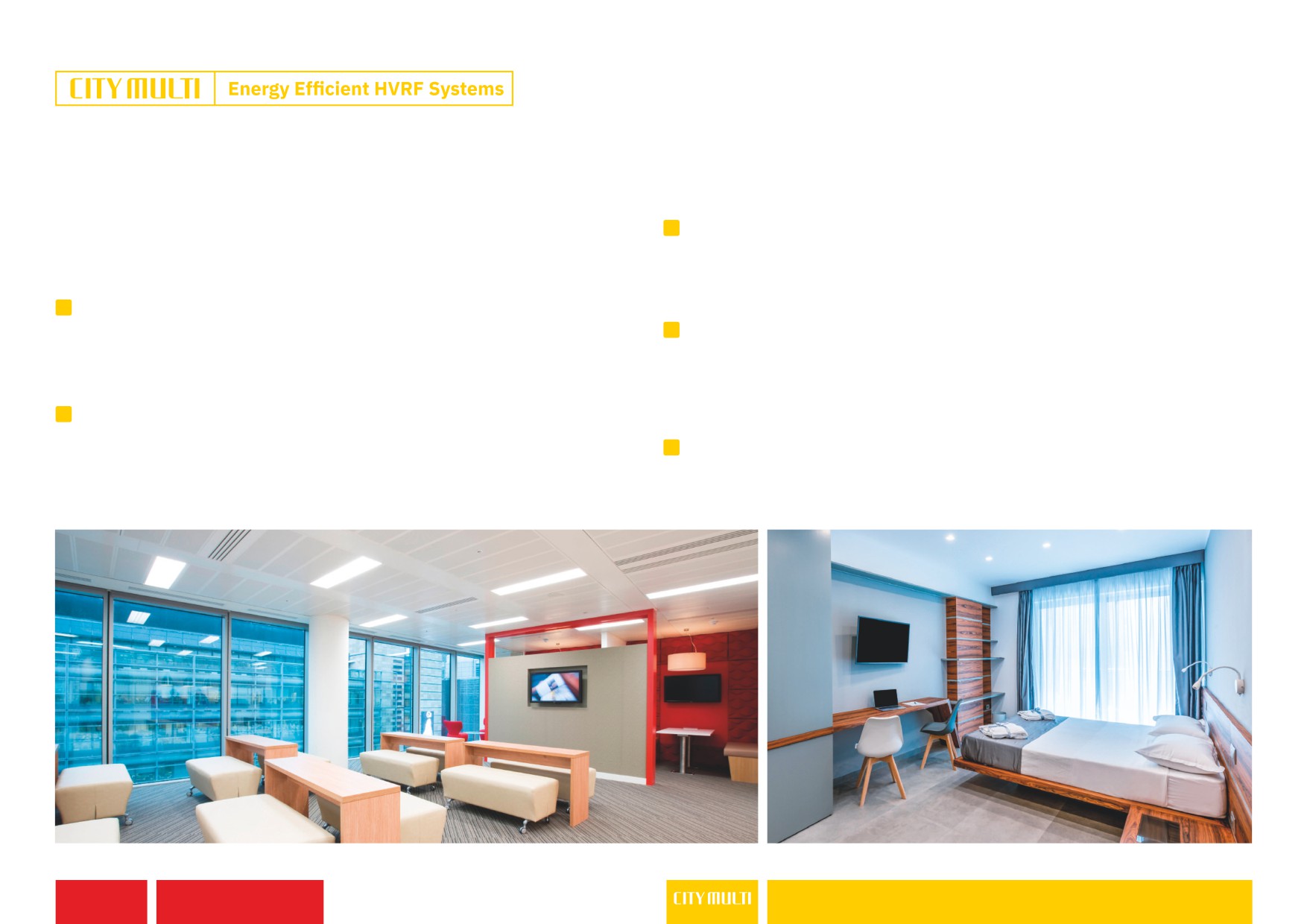 Where can Hybrid VRF be applied
There is a high priority for buildings around the UK to combine energy
efficiency, internal comfort and an easy control solution. Hybrid VRF
Hybrid VRF can deliver mild off-coil temperatures through the water based indoor units,
meets all of these needs across multiple applications.
without the need for refrigerant in occupied spaces, making these systems perfect for
use in medical environments.
Customer comfort is paramount with legislation focusing attention on energy use and seeking to
limit the use of refrigerant in occupied spaces. Hybrid VRF removes the need for leak detection,
As we look for ways to manage crowded city centres, more mixed use properties are being
thereby reducing the total cost of the system and on-going maintenance of the leak detection
developed, often combining retail, office, leisure and living spaces in the same building. Hybrid
VRF provides a fully adaptable solution benefitting from air or water source options and using
an extensive range of controls to ensure optimum performance.
Modern offices and commercial buildings need air conditioning systems that provide the highest
levels of comfort, as energy efficiently as possible. Furthermore, an office can be transformed
simply from a CAT A to a CAT B fit out, as water pipes can easily be isolated from the Hybrid
Providing comfort through temperature stability, removal of refrigerant from the occupied space
Branch Controller box, making building layout changes straight forward.
and reduced noise - Hybrid VRF provides a truly integrated solution to aid study.
Energy efficient HVRF Systems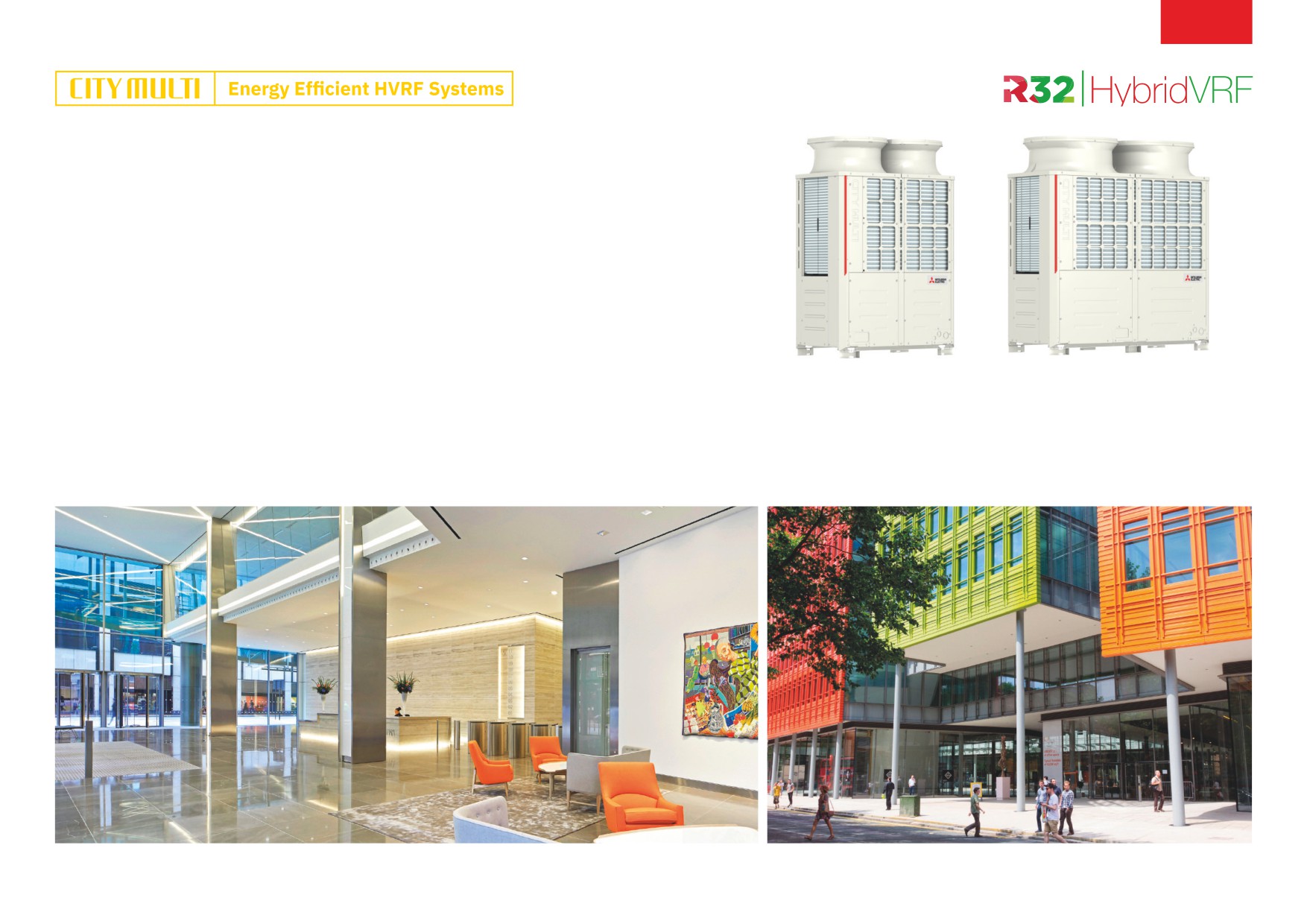 Ecodesign and Seasonal Efficiency
With buildings accounting for around half of all UK greenhouse emissions,
legislation is demanding increased energy efficiency in this sector.
The Ecodesign Directive for Energy Related Products (ErP) is focusing on this area in a bid to reduce overall
energy consumption and to accelerate market transformation to more energy efficient products.
An air conditioner will vary performance over changing seasons, which means calculating seasonal performance
is important to ascertain the true performance of an air conditioning system. The Ecodesign Directive reflects
this by setting minimum efficiency requirements and a new method of measuring performance that has been
introduced across Europe.
Capacity and efficiency conditions
Nominal Conditions: Cooling; indoor 27ºC DB, 19ºC WB; outdoor 35ºC DB, 24ºC WB.
The European Standard BS EN14825 sets the seasonal performance calculation for an air conditioning system.
Nominal Conditions: Heating; indoor 20ºC DB; outdoor 7ºC DB, 6ºC WB.
For more information visit the website: erp.mitsubishielectric.eu/erp
UK Conditions: Cooling; indoor 21ºC DB, 15ºC WB; outdoor 27ºC DB.
SEER/SCOP available separately in the 'City Multi HVRF Seasonal Efficiency' document.
UK Conditions: Heating; indoor 20ºC DB; outdoor 0°C DB, -1ºC WB.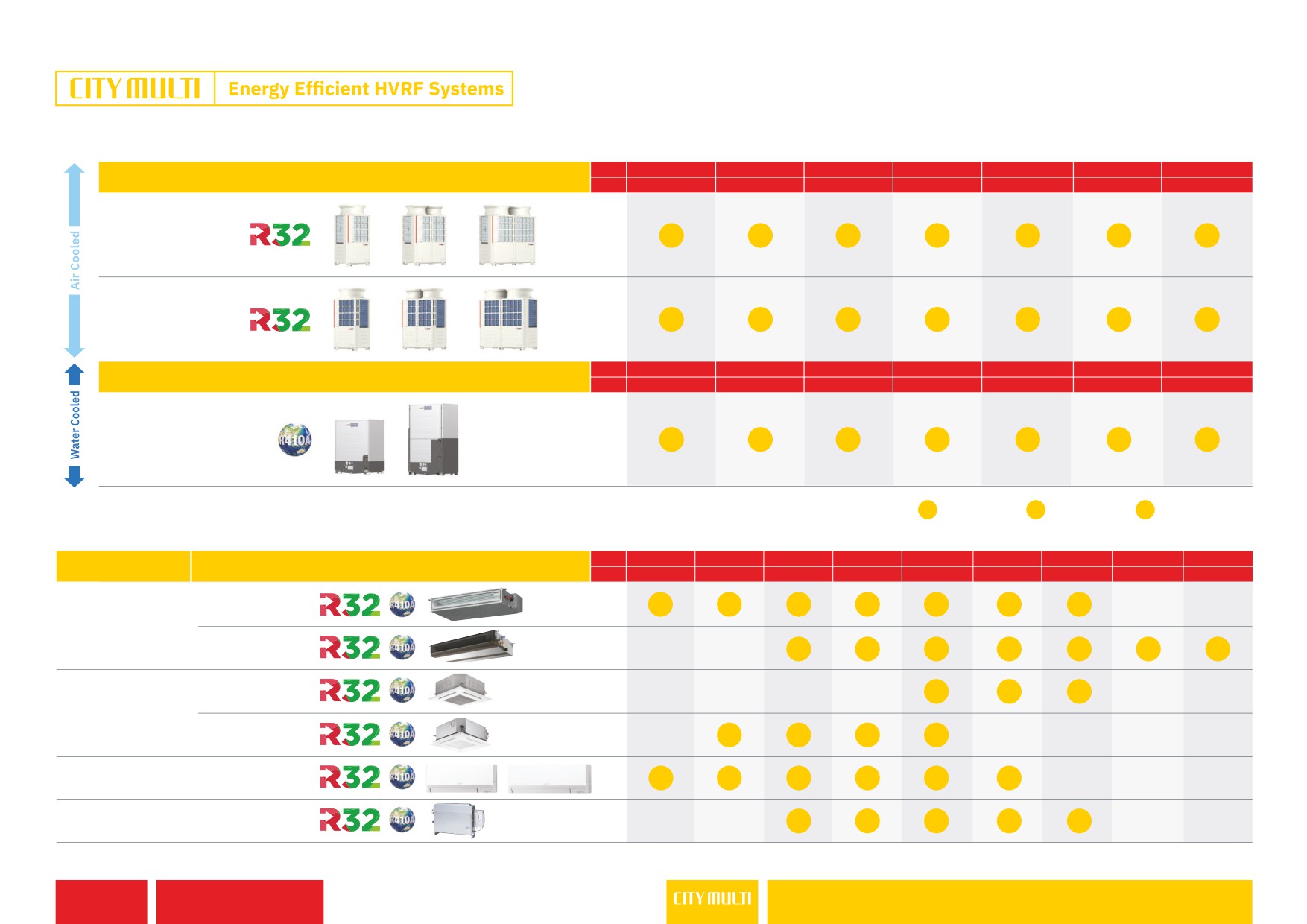 Outdoor / Condensing Unit Range
Heat Recovery - R2 Series
Heat Recovery - WR2 Series
Energy efficient HVRF Systems