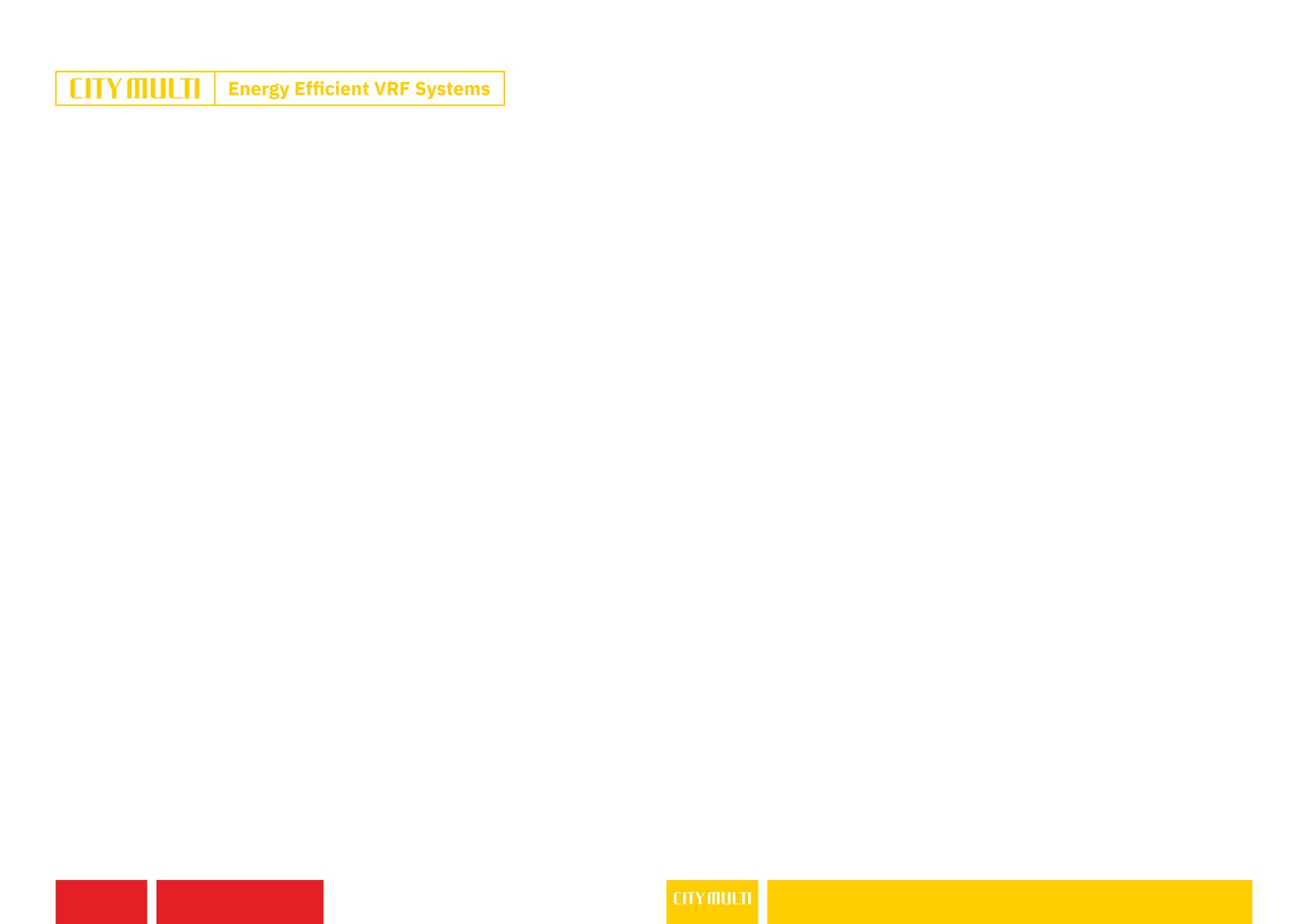 R32 Heat Recovery Outdoor Units
R410A Mini VRF Heat Pump Outdoor Units
R2 Series High Efficiency (22.4-33.5kW)
Y Series (12.5-15.5kW) - Single Fan
R2 Series Standard Efficiency (22.4-33.5kW)
Y Series (12.5-22kW) - Twin Fan
R410A Water Cooled Condensing Units
WR2 Series Heat Recovery (22.4-56kW)
R32 Heat Pump Outdoor Units
WR2 Series Heat Recovery (63-101kW)
WY Series Heat Pump (22.4-56kW)
WY Series Heat Pump (63-101kW)
R410A Heat Recovery Outdoor Units
R410A Replace Multi Outdoor Units
R2 Series High Efficiency (22.4-45kW)
R2 Series High Efficiency (50-63kW)
R2 Series Heat Recovery (22.4-33.5kW)
R2 Series High Efficiency (69-69kW)
Y Series Heat Pump (22.4-33.5kW)
VRF Sanitary Water Heater
R2 Series High Efficiency (101-124kW)
R2 Series Standard Efficiency (22.4-45kW)
R2 Series Standard Efficiency (50-63kW)
R2 Series Standard Efficiency (69-96kW)
BC Controllers with Port Isolation Valves
Ultra Thin Ceiling Concealed Ducted
R2 Series Standard Efficiency (101-124kW)
BC Controllers with Port Isolation Valves
BC Controllers with Acoustic Jacket
Refrigerant Detection Systems
R410A Heat Pump Outdoor Units
High Static Pressure Ceiling Concealed Ducted
Accessories / Optional Extras
4-Way Blow Ceiling Cassette
600x600 4-Way Blow Ceiling Cassette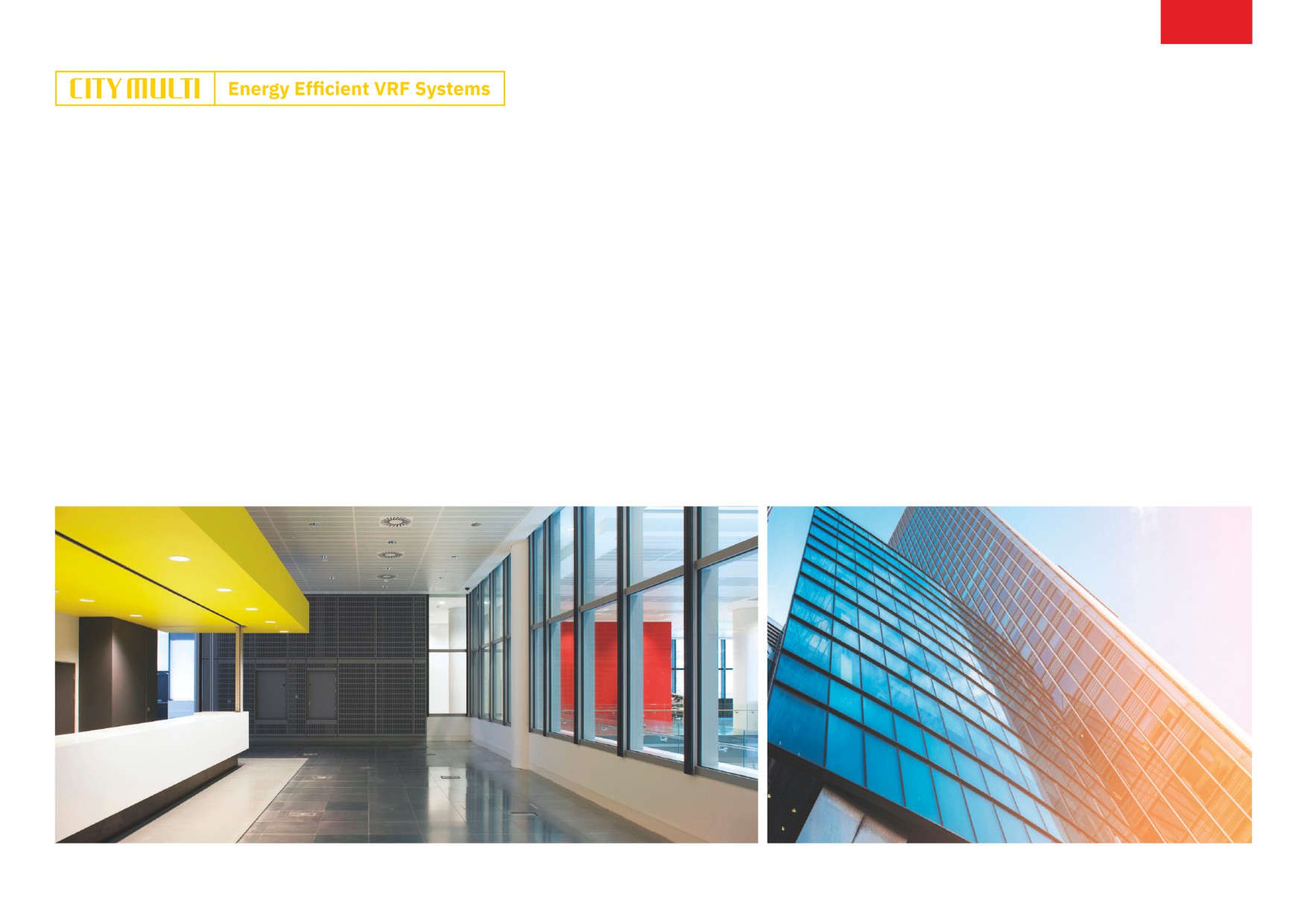 Our answer to large scale VRF -
City Multi Air Conditioning
First developed 30 years ago, City Multi is the market leader in VRF technology
.
Specifically designed to deliver comfort and control for today's building
City Multi has constantly evolved and is packed
requirements, it addresses all the key market issues
with innovation that makes it eminently suitable
VRF (Variable Refrigerant Flow) is a direct expansion type air conditioning system where one outdoor unit is
connected with multiple indoor units, intelligently modulating the flow of refrigerant or water depending upon
the capacity requirements of each zone within the building. Its ultimate purpose is to regulate the internal
Designed from day one to work effectively in real applications in
room air temperature and comfort levels in the most effective and efficient manner possible.
the UK market, City Multi delivers the best possible performance,
combined with total flexibility of design and operation.
Today's commercial buildings are increasingly air tight and filled with heat-generating office equipment and
lighting, which presents a challenge for anyone trying to maintain a stable and comfortable internal environment.
Available in heat recovery and heat pump variants, with up to
Buildings account for around half of all UK greenhouse emissions, so legislation is demanding higher
50 indoor units connectable, City Multi provides the ultimate
standards of air quality and increased energy efficiency in this sector.
solution in comfort and efficiency.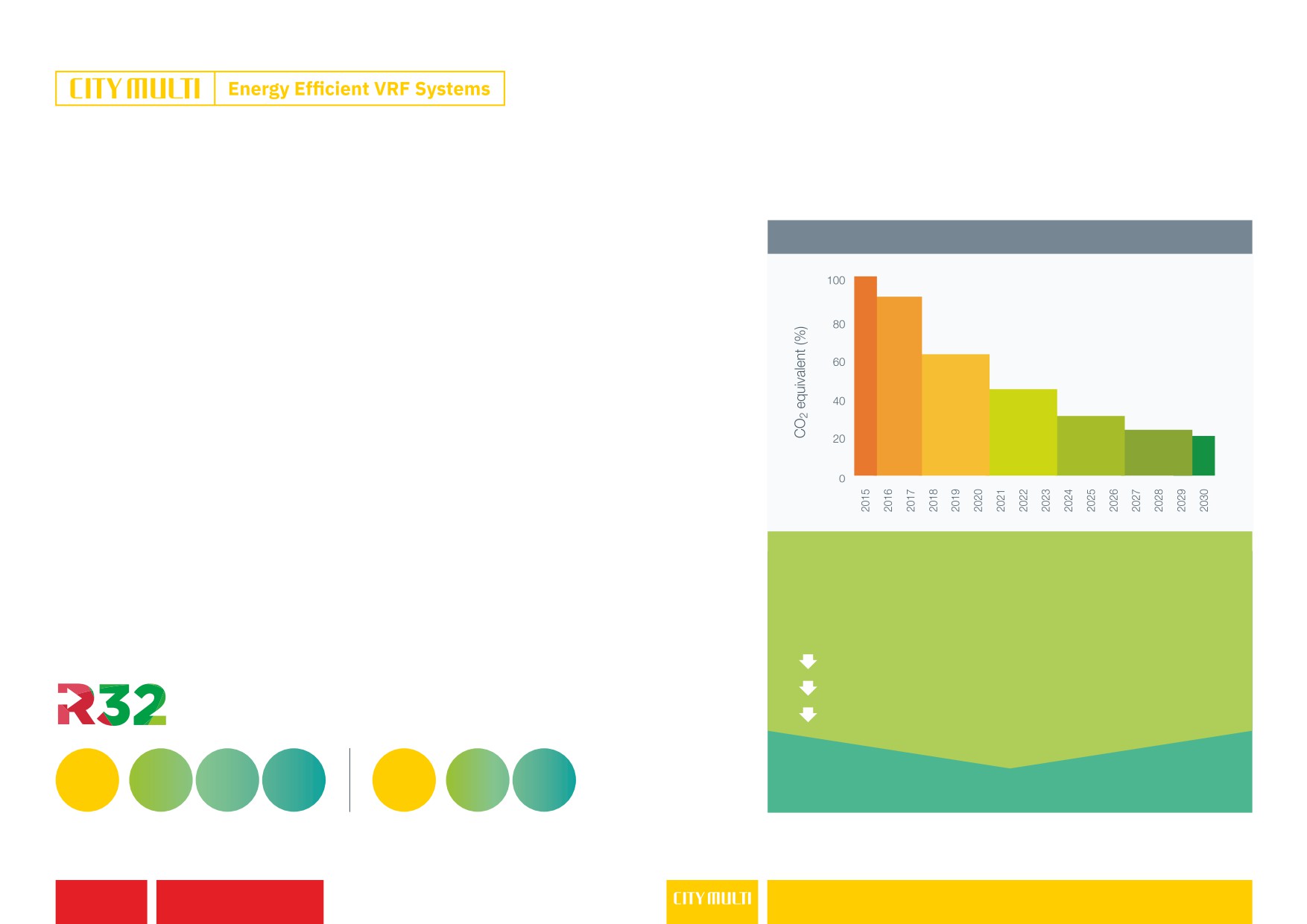 Lower GWP R32 VRF air conditioning systems - now available from Mitsubishi Electric
With the launch of the new YNW R32 VRF systems, Mitsubishi Electric
F-Gas
- HFC phase down programme*
is the first manufacturer to offer the UK market a complete range of
lower Global Warming Potential (GWP) solutions.
Under the growing pressure of the F-Gas phase down regulations, the market is demanding
viable and positive solutions which are future proof for businesses and last the full lifecycle
R32 is now the norm for room and split air conditioning systems offering a lower GWP (675)
than R410A (2088). At the same time, the use of VRF systems has grown intensively over the
past decade due to the core benefits of flexibility, energy saving and automated control.
The unique Hybrid VRF system has been the only viable R32 solution available to the UK market -
until now. Utilising the innovative City Multi YNW outdoor unit, our new R32 VRF solution is
able to offer complete design flexibility, high efficiency and low noise.
R32 makes up 50% of the existing R410A refrigerant already found in many current VRF systems;
it
is highly energy efficient and easy to recycle. A GWP of one third of R410A, plus reduced
overall system refrigerant volumes, means a lower refrigerant total and lower global warming impact.
Customers need a manufacturer that is ahead
No matter which stage of the supply chain you or your customers occupy and whatever the core
of the curve and developing products that
drivers, the solutions available from our complete range of VRF products can meet the tough
meet both current and future legislation.
demands of today's buildings. Whether CSR is high on the agenda, or lifecycle cost or capital cost,
there is a choice available from Mitsubishi Electric.
Options to reduce the CO
2
equivalent include:
Decreasing kW on the market
Reducing the amount of refrigerant
Lowering the GWP of refrigerant
VRF now utilises lower GWP R32 refrigerant.
The Energy Efficient City Multi VRF Range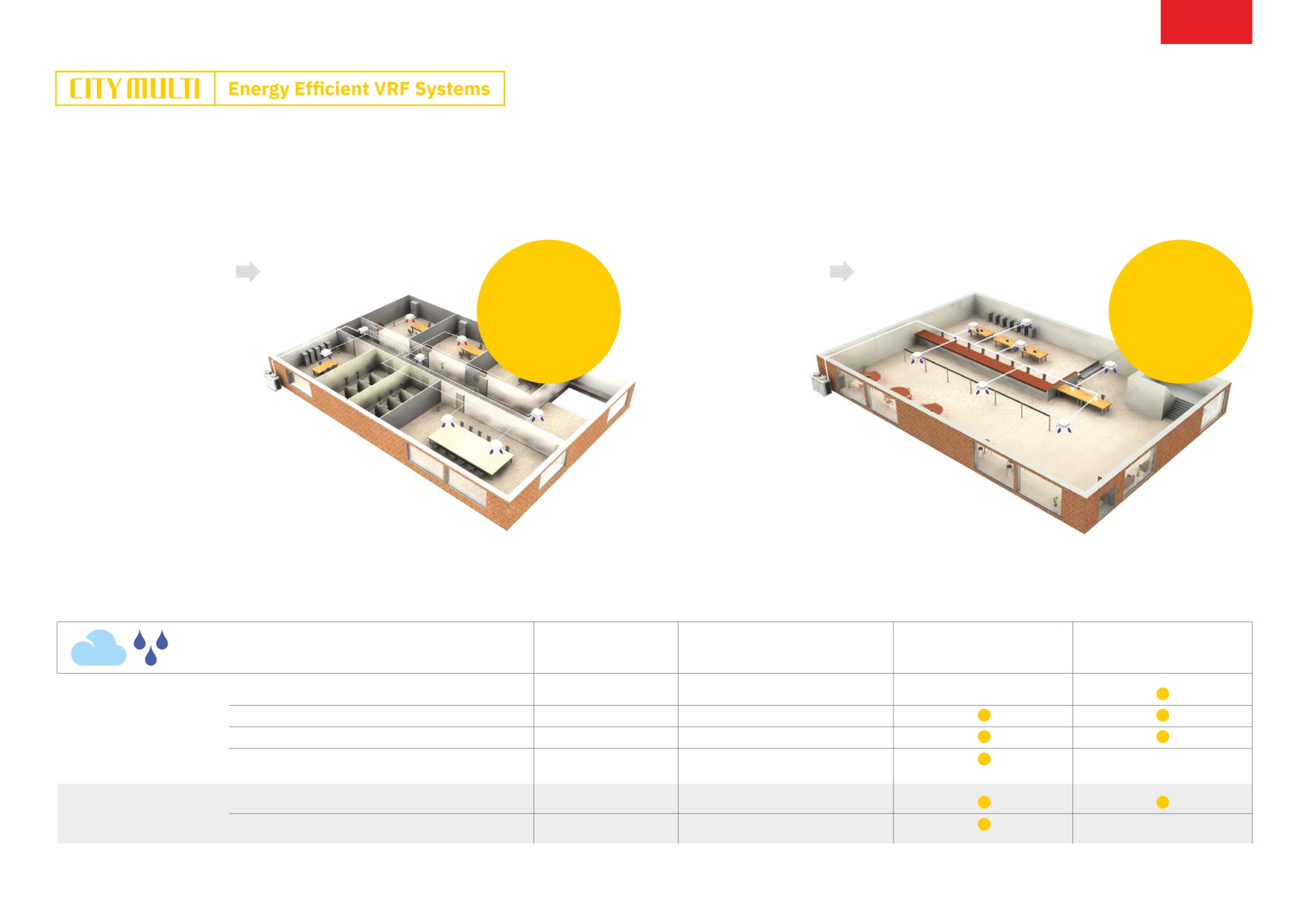 Constant development and innovation mean that City Multi VRF systems can be
applied into any building through
heat recovery
and
heat pump
systems.
Provides simultaneous heating and cooling
One outdoor unit provides
with the benefit of heat recovery.
By moving energy where it's
needed, input is reduced by
up to 30%. Offering flexibility,
operability, comfort and control.
Air conditioning systems need to extract or reject energy to enable the heating and cooling process to operate. Regardless of source,
using either air, water or the ground as a medium to transfer this energy, our wide range of products are designed to maximise efficiency.
Specific R22/R407C Replace
Combination of refrigerant and water
Applicable to water and ground source
Combination of refrigerant and water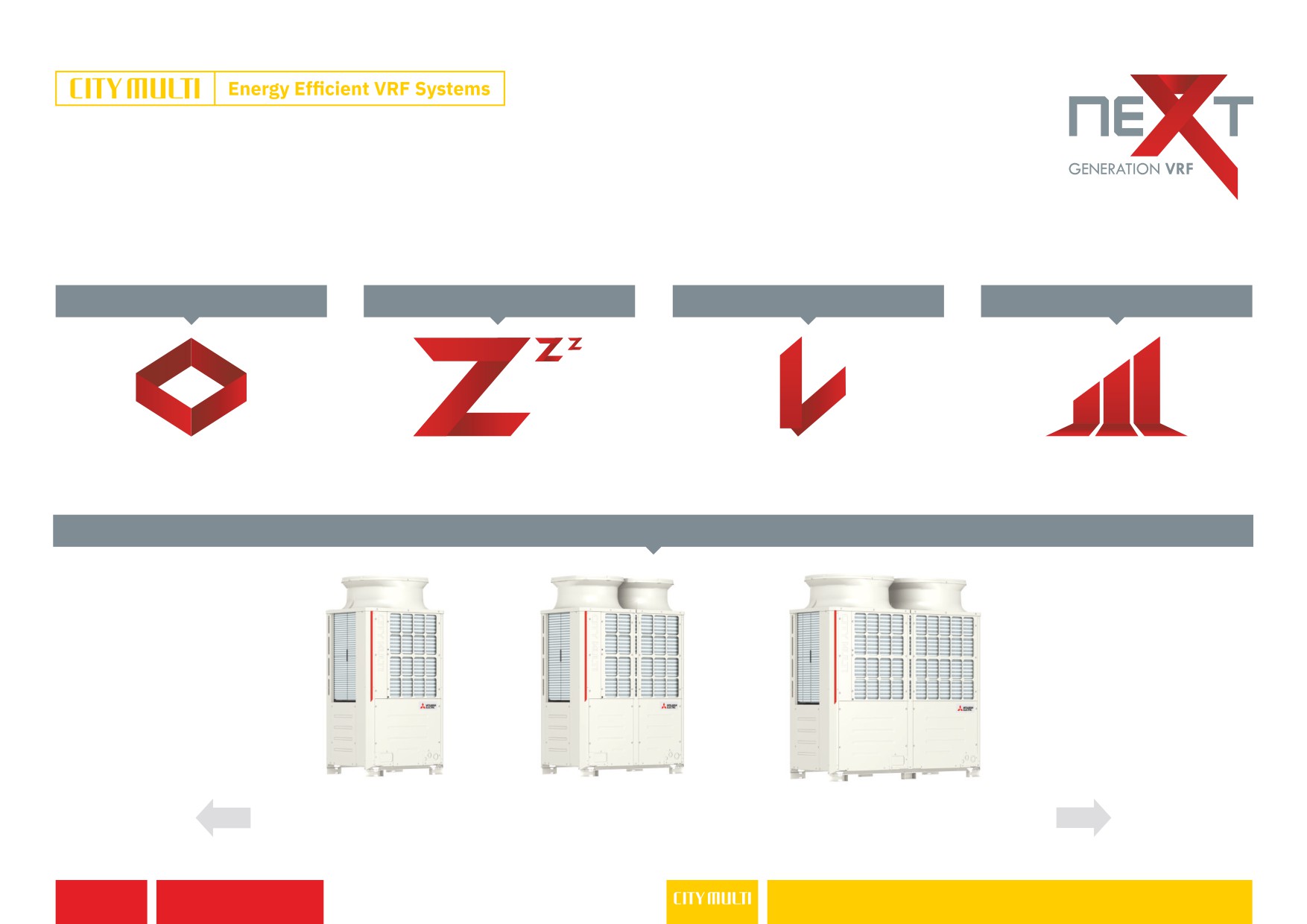 City Multi YNW
- The next generation VRF
Air source VRF is the most popular and widely used air conditioning system in commercial buildings. City Multi YNW as the market leading
product has been designed to address some of the most fundamental challenges facing building designers today:
Anyone involved in specifying, installing or operating building services is looking for air conditioning systems that meet the specific needs of individual projects, whilst meeting energy efficiency legislation.
At the same time, our towns and cities are becoming denser as we look to maximise the use of space in our built environments. This is resulting in more multi-use buildings with office, retail
and leisure spaces in close proximity to both residential and hotel accommodation.
City Multi YNW has answered that need
These models are available in capacities from
22 to 150kW
and offer some of the highest levels
of efficiency, coupled with smaller footprints, reduced noise levels and increased design options.
The Energy Efficient City Multi VRF Range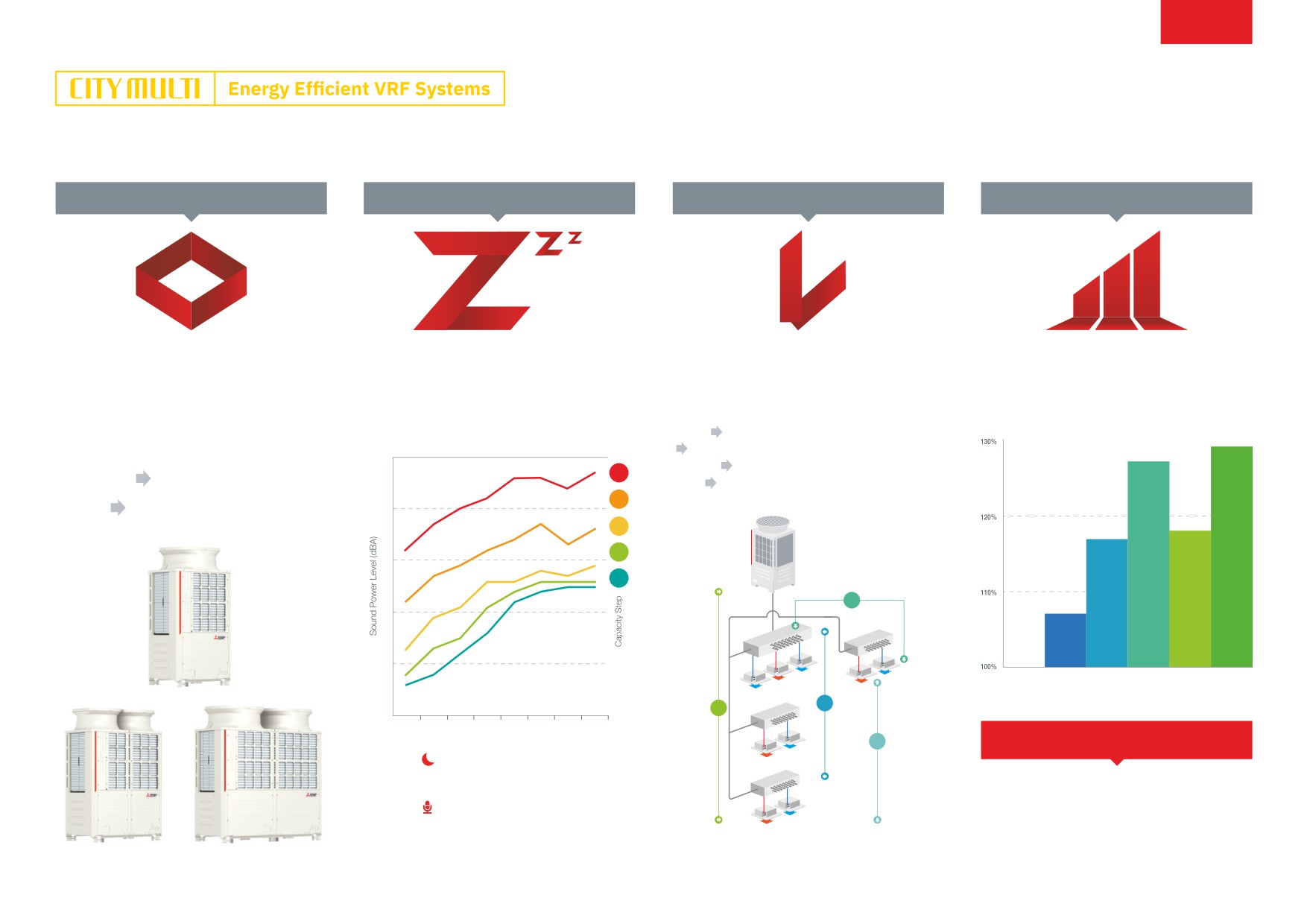 Reduced footprint achieved
Greater flexibility to cope with different noise
criteria for multiple applications
Seasonal efficiency increase (%)
Greater flexibility for location
Up to 11 Sub BCs connectable
Capacity index increased to 350 per sub BC
20% overall reduction on system
EP YLM 2015 P YNW 2018 EP YNW 2018 M YNW 2020 EM YNW 2020
M / P = Standard Variant EM / EP = High Efficiency Variant
Demand is generally lower and noise sensitivity
is increased - select capacity step to meet needs
Designed to help meet the tough
challenges set by planners and designers
Costs can be saved by reducing the amount
looking for heating and cooling solutions
*For guidance on applying Sub BC controllers, please consult your sales office.
in all comfort applications.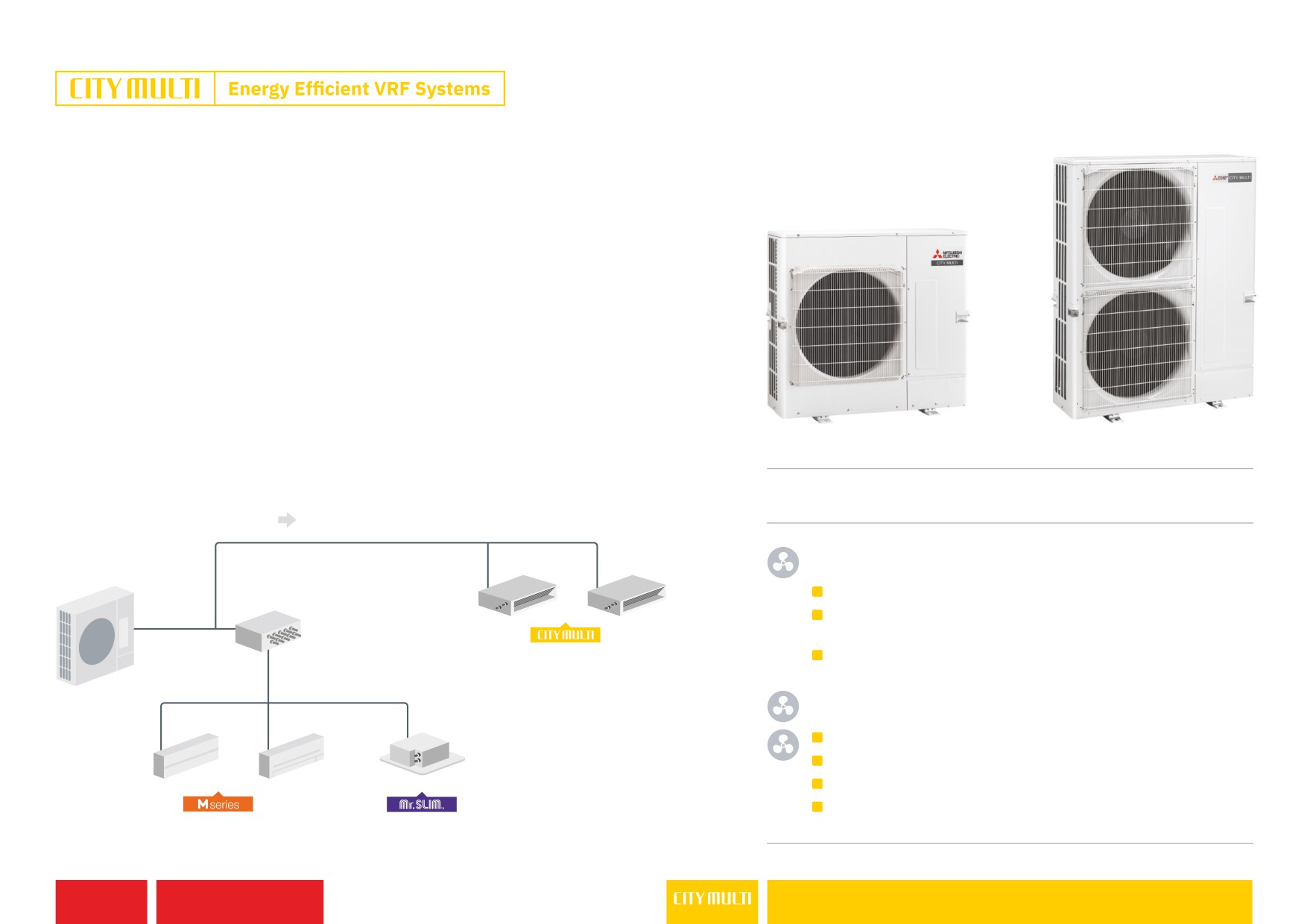 VRF technology in small capacity
Utilising all the benefits of VRF technology, the low capacity Mini
VRF PUMY models (12.5-22kW) have been designed with a focus
on seasonal efficiency making them ideal for discreet
application environments.
City Multi PUMY units are designed to tackle the challenges of our modern urban environment,
offering low noise levels and a range that enables outdoor units to be discretely installed out of
the line of sight. PUMY units will heat or cool a wide variety of applications such as hotels, offices,
retail outlets and mixed-use buildings incorporating high-end residential. These units provide
additional flexibility when used as a Multi-Split with stylish M Series indoor units.
Typical Multi-Split layout:
Depending on your application,
there are two solutions available:
Up to 11 indoor units can be connected
Small footprint and height make this ideal for discreet location
Standard 30Pa static fan allows outdoor units to be housed without
Cost effective and low refrigerant charge
High efficiency with longer pipe runs up to 300m total
Low noise with best heating capacity available
22kW from low impact chassis
The Energy Efficient City Multi VRF Range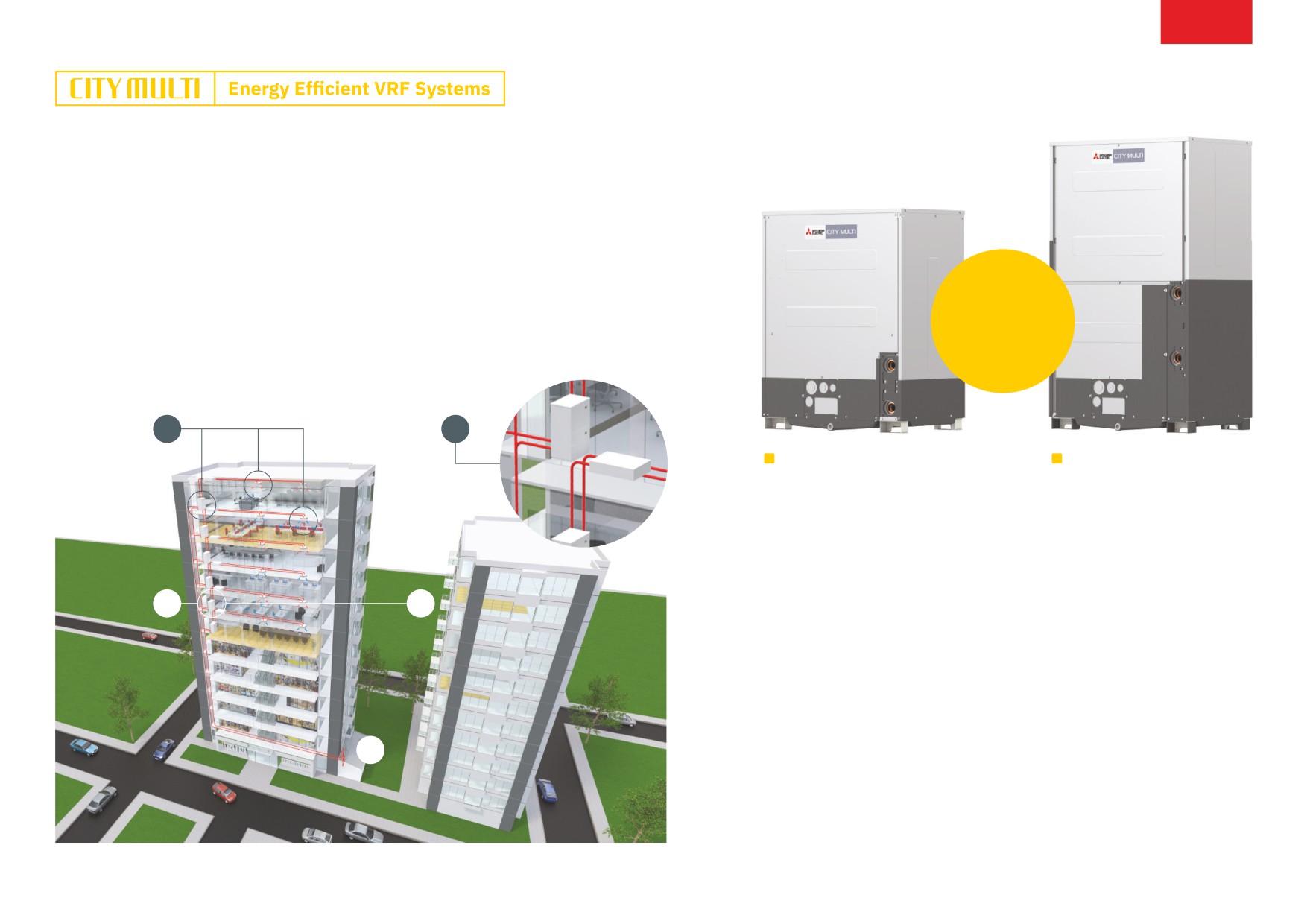 City Multi - Water Cooled VRF Solution
Ideal where outdoor space is limited, building heat recovery and
efficiency is demanded and a water loop is available, City Multi water
cooled models provide the ultimate solution.
First developed 25 years ago, the City Multi water cooled system utilises water instead of
air as an energy transfer medium, but benefits from all the same technology and flexibility
of an air sourced VRF. Available in heat pump (22-101kW) and heat recovery
A sustainable and flexible solution
1.
Apply and network the energy through a water loop, within the building and
between buildings - optimising efficiency.
2.
Utilise geothermal, rivers or lakes, landlord loops, waste heat from server
cooling or other processes.
3.
Unit located indoors on each floor, ensuring design flexibility with pipework.
Compact and quiet unit minimising outdoor plant space and maximising
4.
City Multi water cooled models offer double heat recovery through
refrigerant and water, no defrost and a refrigerant cooled inverter
with no heat rejection to the internal space.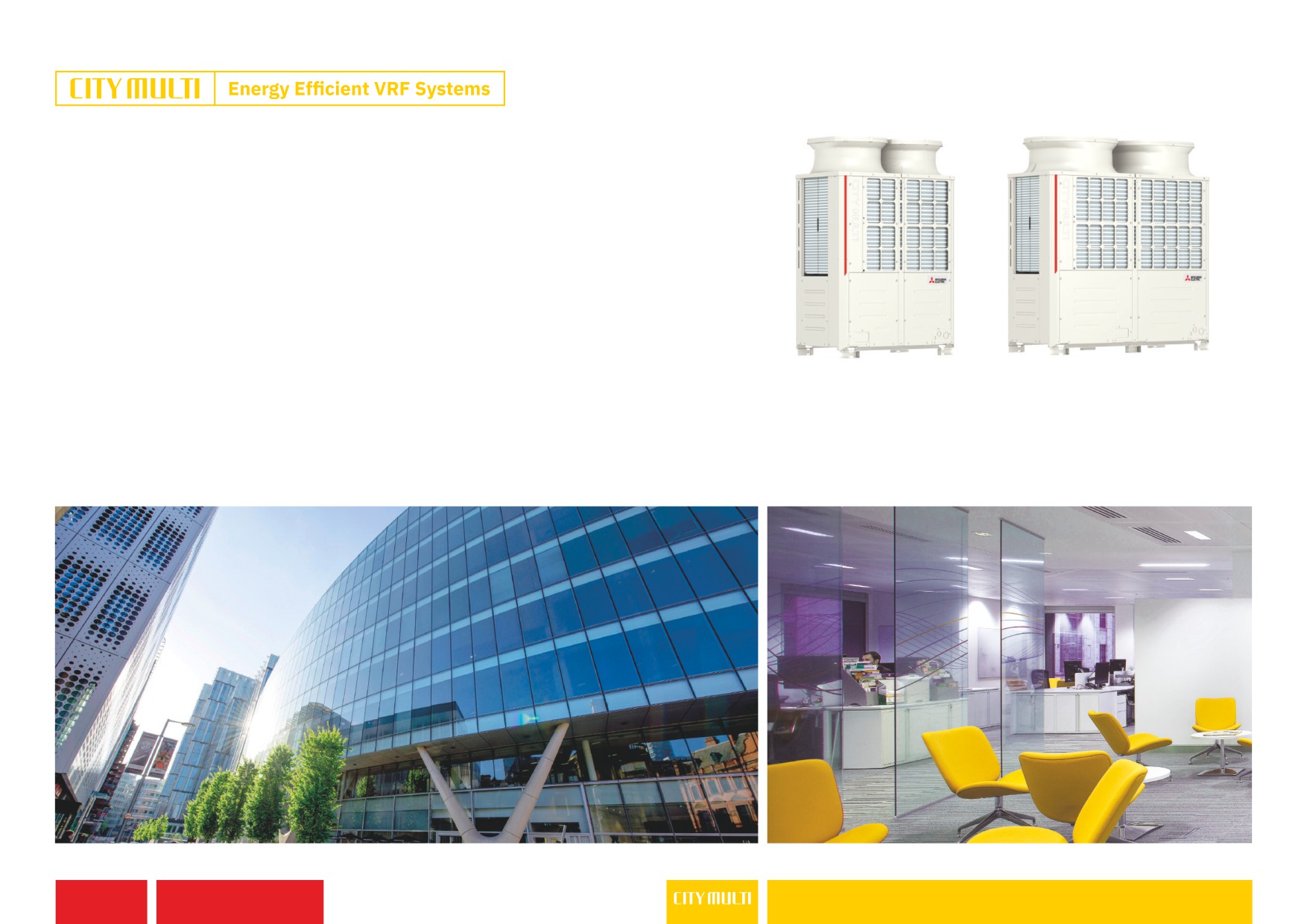 Ecodesign and Seasonal Efficiency
With buildings accounting for around half of all UK greenhouse emissions,
legislation is demanding increased energy efficiency in this sector.
The Ecodesign Directive for Energy Related Products (ErP) is focusing on this area in a bid to reduce overall
energy consumption and to accelerate market transformation to more energy efficient products.
An air conditioner will vary performance over changing seasons, which means calculating seasonal performance
is important to ascertain the true performance of an air conditioning system. The Ecodesign Directive reflects
this by setting minimum efficiency requirements and a new method of measuring performance that has been
introduced across Europe.
Capacity and efficiency conditions
Nominal Conditions: Cooling; indoor 27ºC DB, 19ºC WB; outdoor 35ºC DB, 24ºC WB.
The European Standard BS EN14825 sets the seasonal performance calculation for an air conditioning system.
Nominal Conditions: Heating; indoor 20ºC DB; outdoor 7ºC DB, 6ºC WB.
For more information visit the website: erp.mitsubishielectric.eu/erp
UK Conditions: Cooling; indoor 21ºC DB, 15ºC WB; outdoor 27ºC DB.
SEER/SCOP available separately in the 'City Multi VRF Seasonal Efficiency' document.
UK Conditions: Heating; indoor 20ºC DB; outdoor 0°C DB, -1ºC WB.
The Energy Efficient City Multi VRF Range