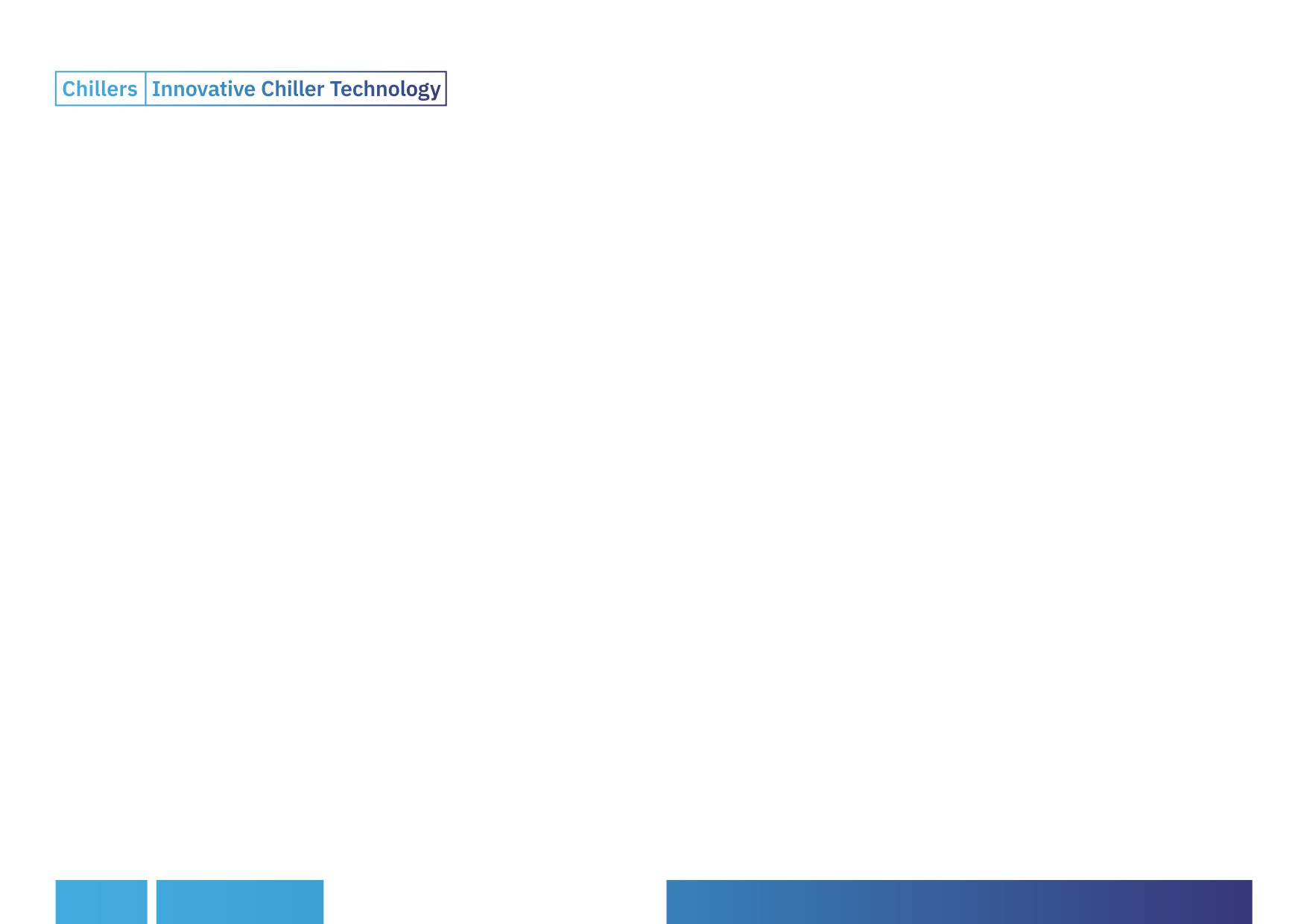 EACV / EAHV e-series Modular Chiller Range (90-1,080kW)
i-BX Air Cooled Chiller Range, Single Phase (4.3-12.9kW)
i-BX Air Cooled Chiller Range, Three Phase (10.7-35.1kW)
i-NX Air Cooled Chiller Range (43.9-129kW)
i-NX Air Cooled Chiller Range, Low Noise Version (42.6-124kW)
i-NX-Q SL Air Cooled 4-Pipe Chiller Range, Low Noise Version (45-139kW)
Traditional Chillers - An Overview
Chillers for Cooling Only Applications
Chillers for Heat Pump Applications
INTEGRA Simultaneous Heating & Cooling 4-Pipe Chiller System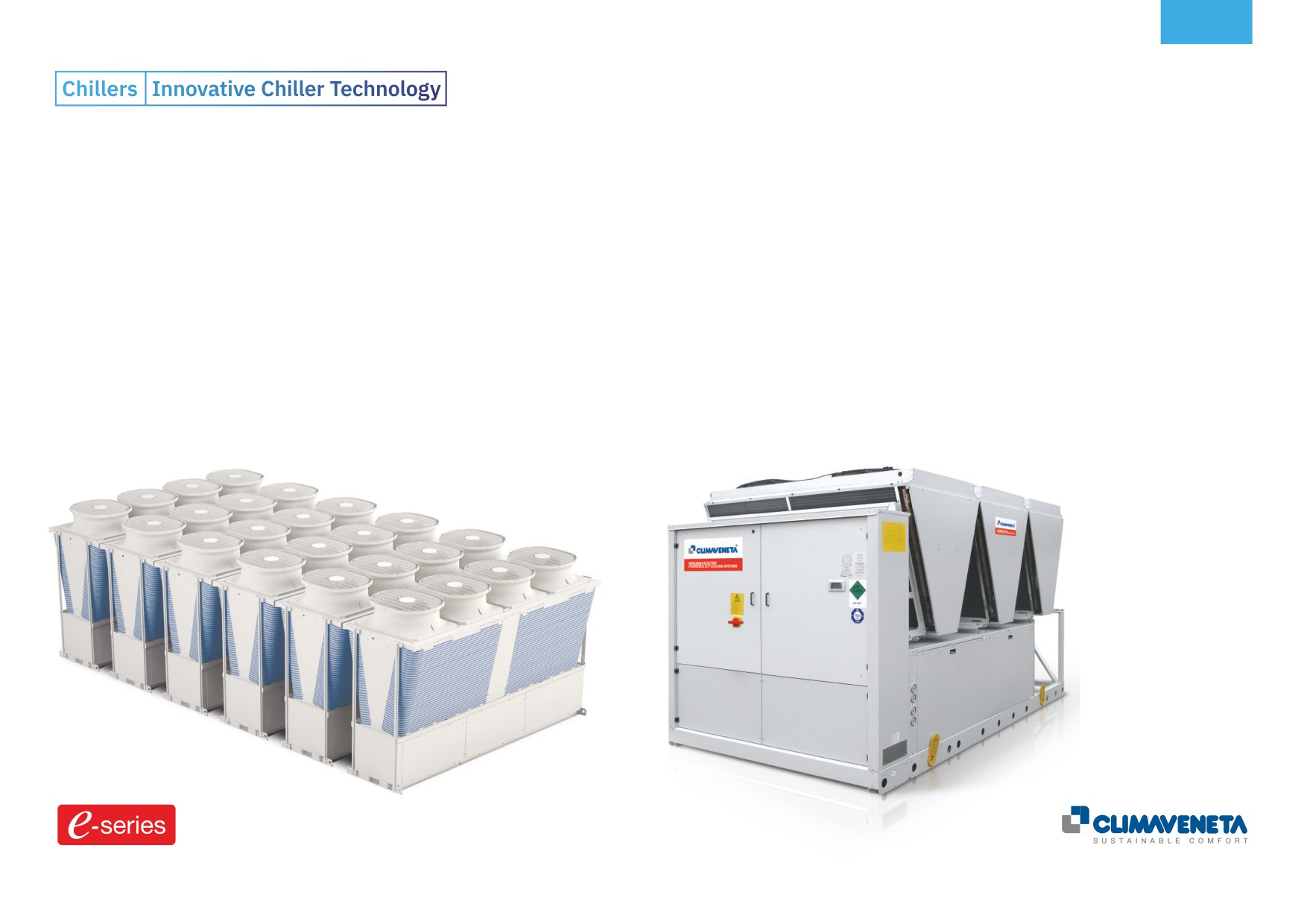 The Innovative
Chiller Range
Mitsubishi Electric has manufactured chillers for over 40 years
Climaveneta is a strong European brand, supported by 45 years of customer trust and high
quality production. Its range of energy-saving, low-noise and innovative chiller technology
and in 2015 combined this extensive experience with advanced
further expands the application and customisation capabilities we are now able to offer.
component technology from the commercial air conditioning
Through our technical expertise, long experience and innovative product range, we enable
sector to produce the e-series modular chiller range.
building operators everywhere to significantly improve energy efficiency, reduce running costs
Later the same year, Mitsubishi Electric purchased Climaveneta, enhancing our
and adhere to increasingly tough legislation.
product line up and marking our full scale entry into the chiller market.
We believe that global climate challenges need local solutions.
Our aim is to help individuals and businesses reduce the energy
consumption of their buildings and their running costs.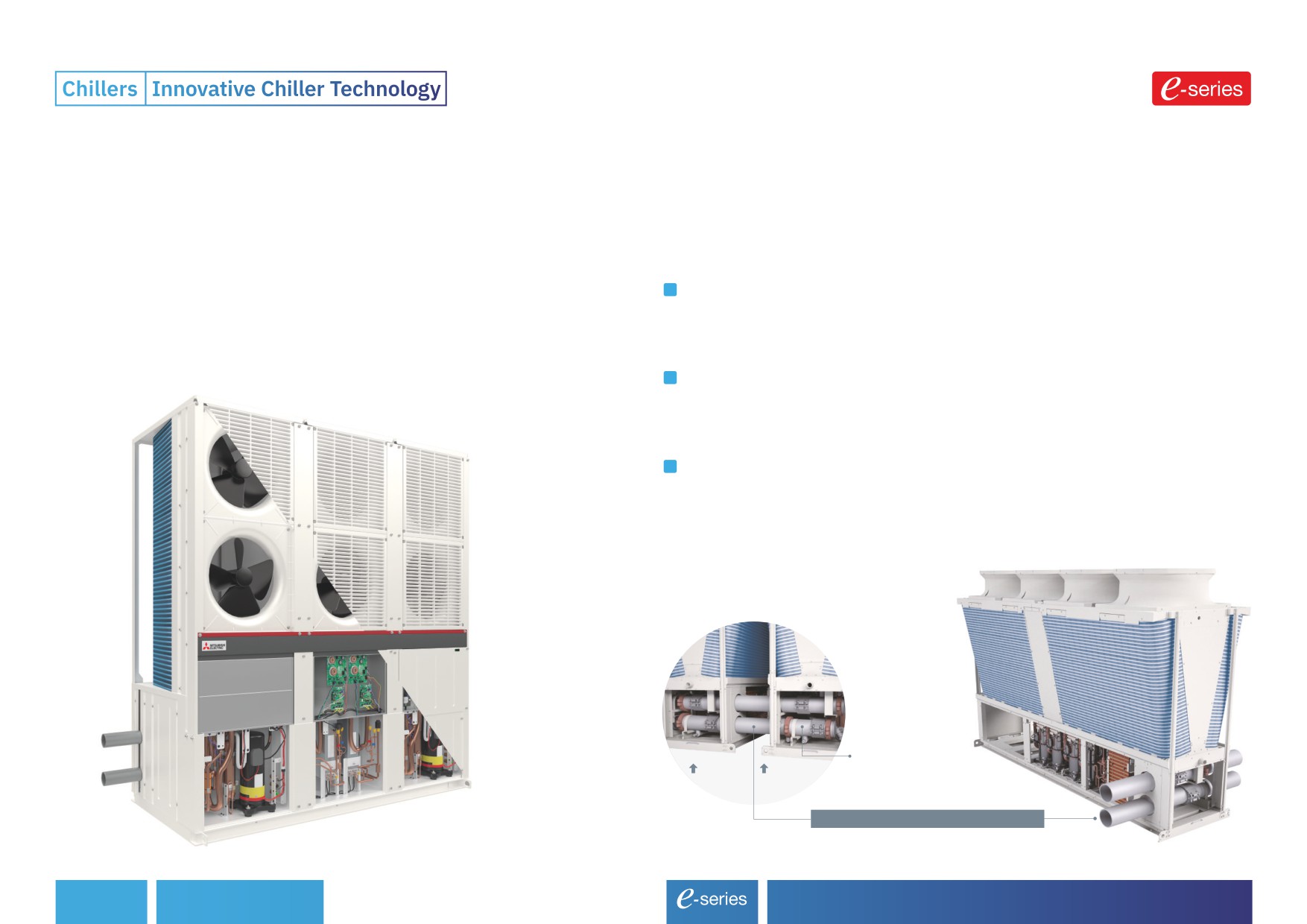 Our Modular Chiller Range
The benefits of Mitsubishi Electric's
Chiller systems have been used for decades to deliver controlled
cooling to buildings, but with increasing pressure on energy
e-series modular chiller range:
efficiency and running costs, we now need a low-carbon,
flexible and cost effective option.
The e-series modular chiller range uses highly efficient scroll compressor technology from our
Comprising of Cooling Only and Heat Pump models, Mitsubishi Electric's e-series
City Multi VRF units, along with advanced inverters and controls to deliver exceptional
modular chiller range allows up to six individual units to be connected together
efficiency and a wide operating range.
to provide a system capacity from 90kW to 1,080kW.
Using a modular approach reduces space requirements and simplifies lifting and installation.
A modular approach also lends itself to a staged installation or future HVAC demands, as
modular chillers can be scaled accordingly.
Each module can be positioned in a bank of up to six connected units using the same internal
header. Typically 30% ~ 40% space saving can be achieved when compared with traditional
Internal header pipe connecting multiple units
Our Modular Chiller Range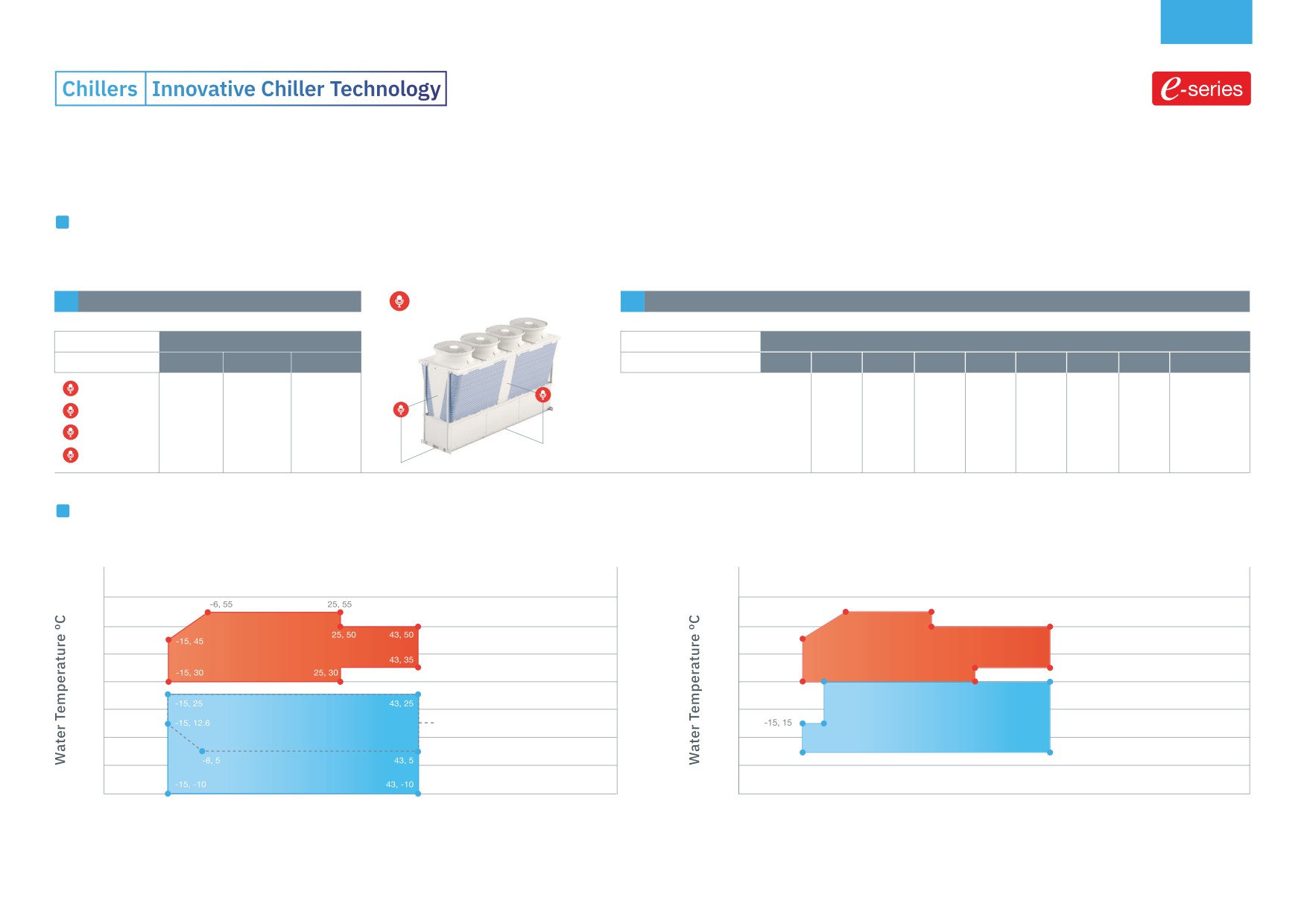 Our Modular Chiller Range
By utilising highly efficient components within a uniquely shaped chiller, the e-series modular chiller range offers market leading low noise levels as standard.
Low noise levels are especially important in today's city centre locations where there is often a mixture of commercial and residential properties in the same area.
The e-series modular chiller has a wide operating range in both cooling and heating. The low chilled water temperature range of the 90kW module is ideal for efficient process cooling applications.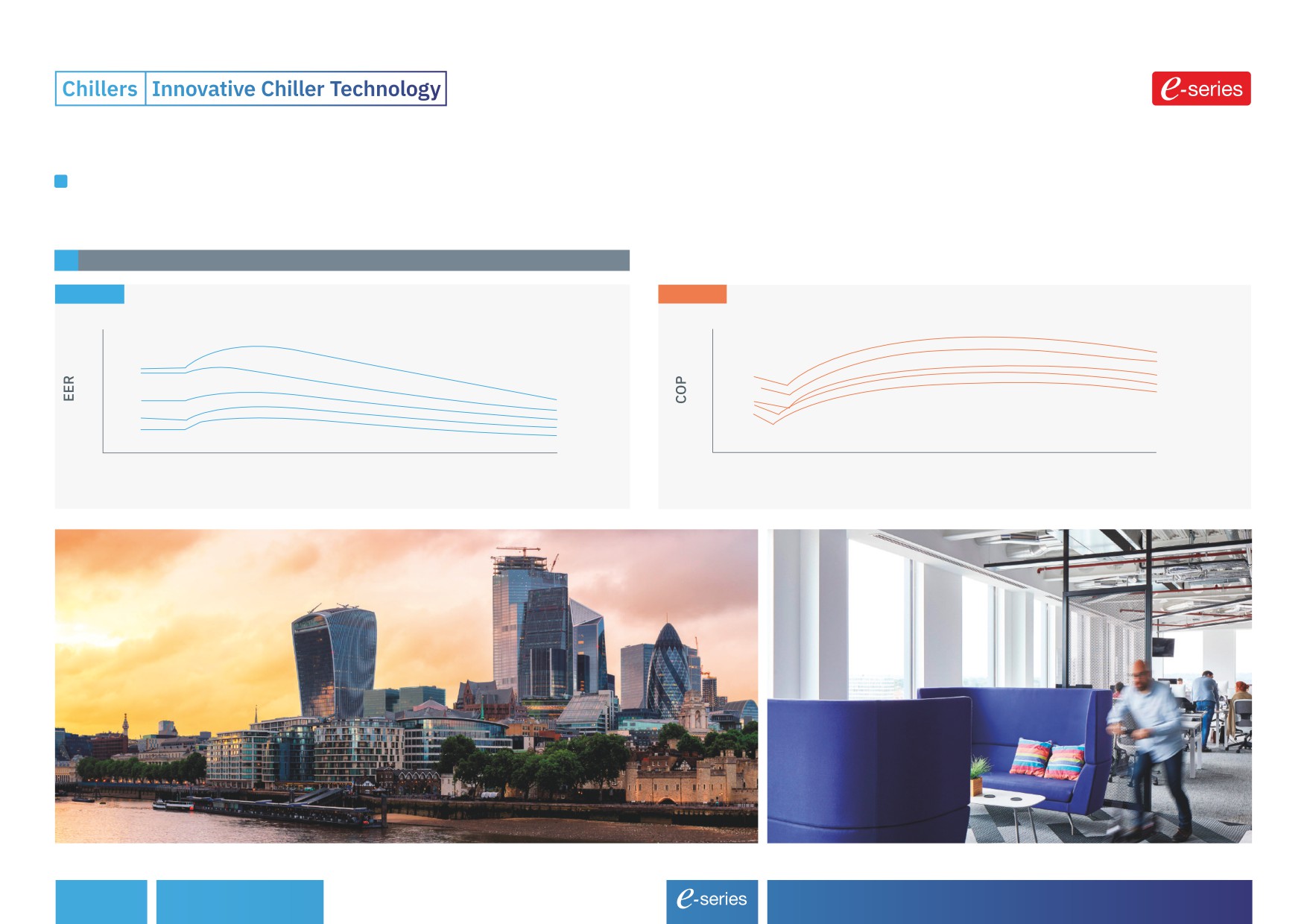 System efficiency and controllability
The e-series modular chiller has multiple inverter driven compressors that allow the unit to operate between 8% ~ 100% of capacity.
By having a broad operating range the chiller has exceptional part load efficiencies, which is where most systems will operate.
High partial load performance
Water outlet 7ºC - Water flow volume 15.5m
3
Water outlet 45ºC - Water flow volume 15.5m
3
/
h
Our Modular Chiller Range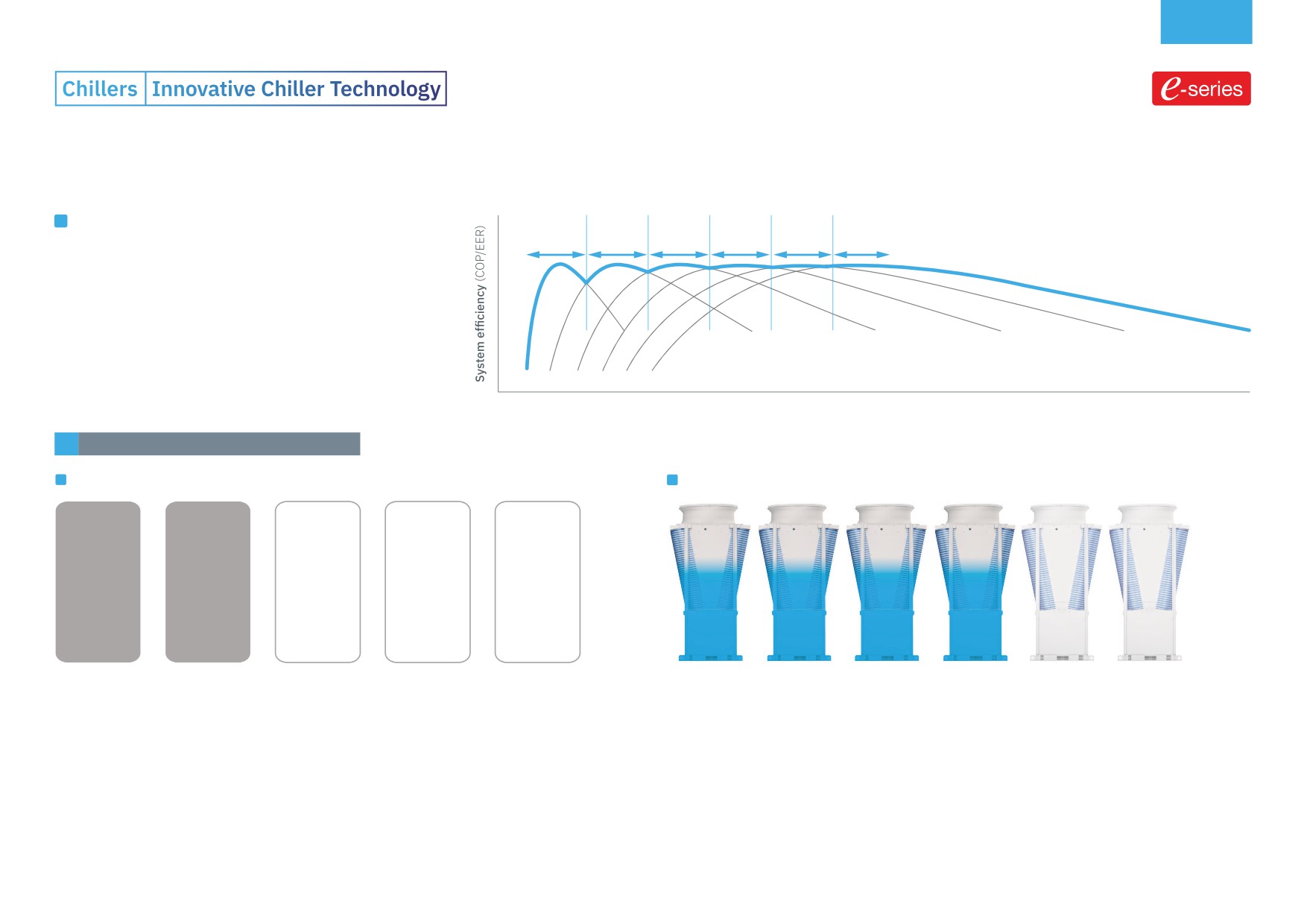 Our Modular Chiller Range
Optimum frequency control
operation operation operation operation operation operation
When multiple modules are connected, the frequency of
each inverter compressor is controlled during operation
to increase the efficiency of each module, achieving a
high energy saving performance.
This control can be implemented by simply using
our unique M-NET control, without the need for
any other on-site design.
When the overall system load is 40%
Without optimum frequency control
With optimum frequency control
Our modules are equipped with inverter compressors, so the system can be operated in
With non-inverter compressors, it is only possible to turn the unit on or off, and
frequency ranges in which the efficiency of each module is at its peak (between 40 and 60%).
the compressor frequency cannot be adjusted according to the required capacity.
Since the compressors are running at inefficient frequencies, the efficiency of
Optimum frequency control of each unit increases the efficiency of the whole system. In low load
the whole system is lower.
conditions, modules can be switched off to keep remaining modules at optimum efficiency.
The output of the pumps connected to the remaining group can be decreased, and the
efficiency of the whole system is then increased. This control is achieved by connecting to
M-NET. There is no need to prepare sensors, and the instrumentation is simple.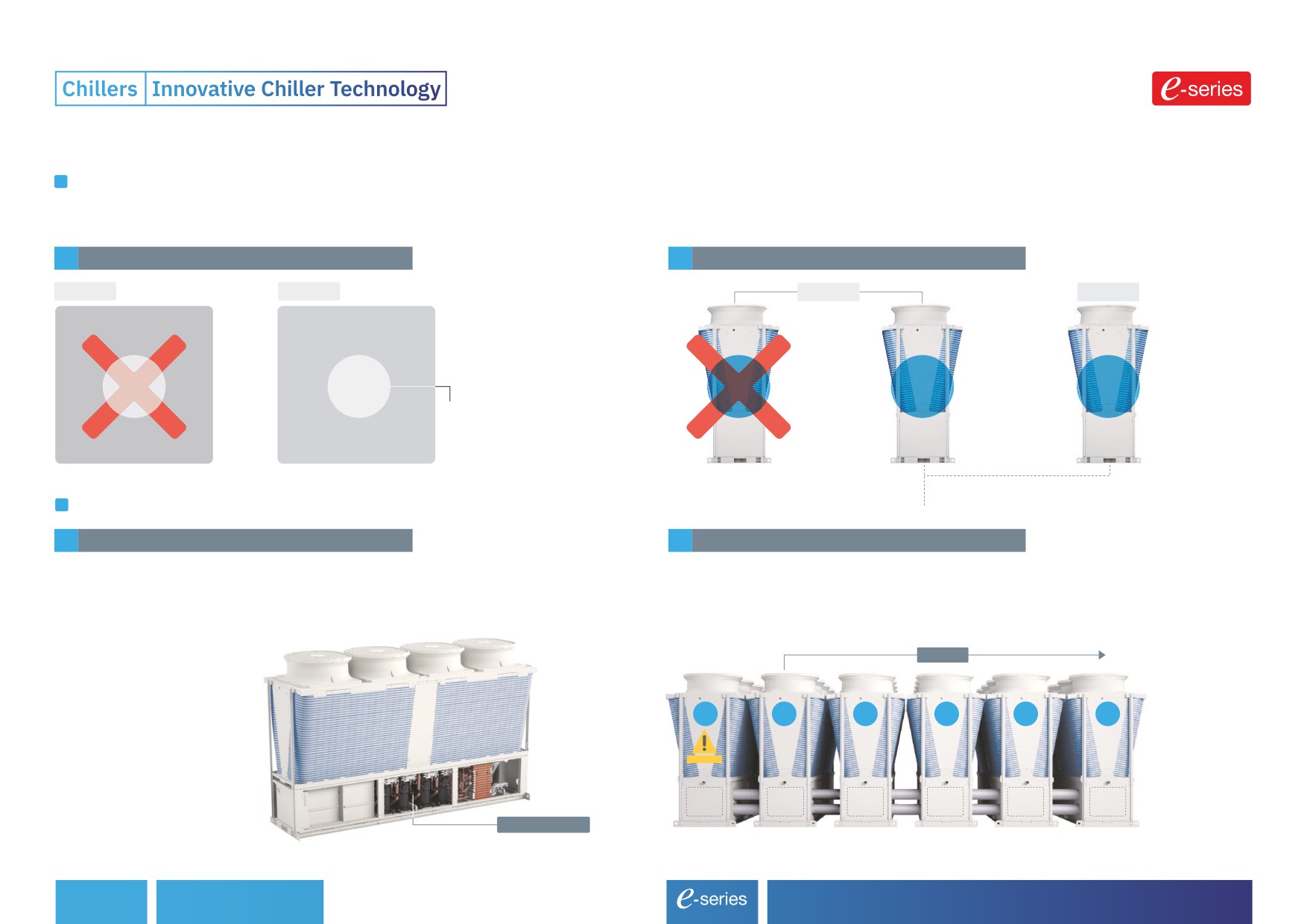 Improved redundancy & resilience
When a non-modular chiller is used as the main 300kW unit, as in this example, the same capacity would also be required as a backup. However, when a Mitsubishi Electric e-series modular chiller
is used, two modules can still operate even if one module goes down, continuing normal operation. This reduces the backup capacity requirement.
Mitsubishi Electric's e-series modular chiller
Operation can be continued via one
normal module and one backup module.
Emergency operation mode / Rotation operation
The e-series module contains four compressors (two for the 90kW module)
If one of the e-series modules goes down, the remaining modules can continue to operate.
developed by Mitsubishi Electric. The four compressors operate
Each module can independently control the outlet water temperature. Even if the main module
as two pairs. If something is wrong with one of the
goes down, operation can be continued. When multiple modules are installed, the operating time
two pairs, the other pair can temporarily
of each module in the same system is also equalized according to the load of the whole system.
this by operating its two
compressors independently.
* Units that have been stopped by thermo OFF before the main unit goes down are kept in the thermo OFF mode.
Our Modular Chiller Range