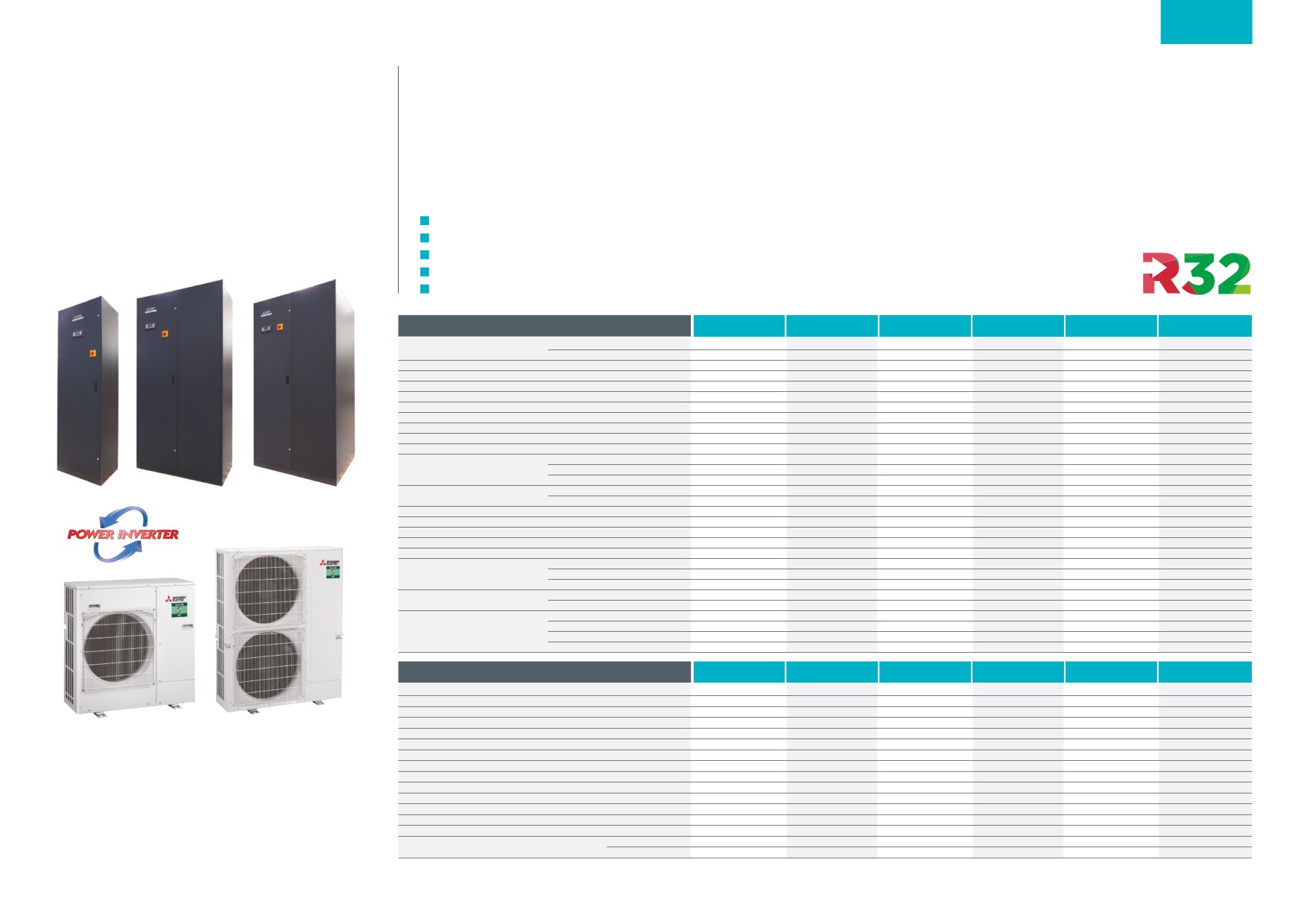 High precision air conditioners are ideal for applications where high sensible cooling and close control
of temperature and humidity are required.
s-MEXT takes advantage of more than 50 years experience of the RC brand within the I.T. Cooling market, coupled with
Mitsubishi Electric renowned quality standards. The split cooling package consists of the indoor s-MEXT high precision
air conditioner connected to a Mr Slim R32 Power Inverter outdoor unit. The result is a full inverter split system, designed
according to the best quality standards and dedicated to the most reliable I.T. environments.
High Efficiency - full Mitsubishi Electric inverter technology and EC plug fans
Trusted Mr Slim Power Inverter technology
Available in Upflow [over] and Downflow [under] variants
CRAC UNITS (Computer Room Air Conditioning)
NOMINAL EXTERNAL STATIC PRESSURE (Pa)
MAX EXTERNAL STATIC PRESSURE (Pa)
REFRIGERANT CIRCUITS (no.)
Extended filtering surface (m²)
Efficiency [ISO EN 16890] (COARSE)
SOUND LEVEL [ISO 3744] (dB(A))*
4
Refrigerant pipes diameter - Gas (Ø Inch)
Refrigerant pipes diameter - Liquid (Ø Inch)
Power Supply wiring Cable (no. x mm²)*
6
SOUND PRESSURE LEVEL (dB(A))
The cooling capacity does not consider the supply fan motor thermal load.
*1 Gross value based on return air of 27ºC - 47%RH; Ambient Temperature 35ºC;
ESP=20PA; Interconnecting pipework length 5m.
*2 SHR = Sensible cooling capacity / Total cooling capacity.
FUSE RATING (BS88) - HRC (A)
*3 Corresponding to the nominal ESP=20Pa.
*4 Sound pressure level on air return at 1m.
*5 Rubber pipe - referred to internal diameter.
MAX HEIGHT DIFFERENCE (m)
CHARGE REFRIGERANT (kg) /
CO
2
EQUIVALENT
(
t
)
*7 For 70 to 100m please consult the service handbook.
MAX ADDITIONAL REFRIGERANT (kg)
/
CO
2
EQUIVALENT
(
t
)
*8 Optional air protection guide is required for temperatures below -5°C.
GUARANTEED OPERATING RANGE (°C)
These units contain <HFC R32 [GWP100 675]> fluorinated greenhouse gas.