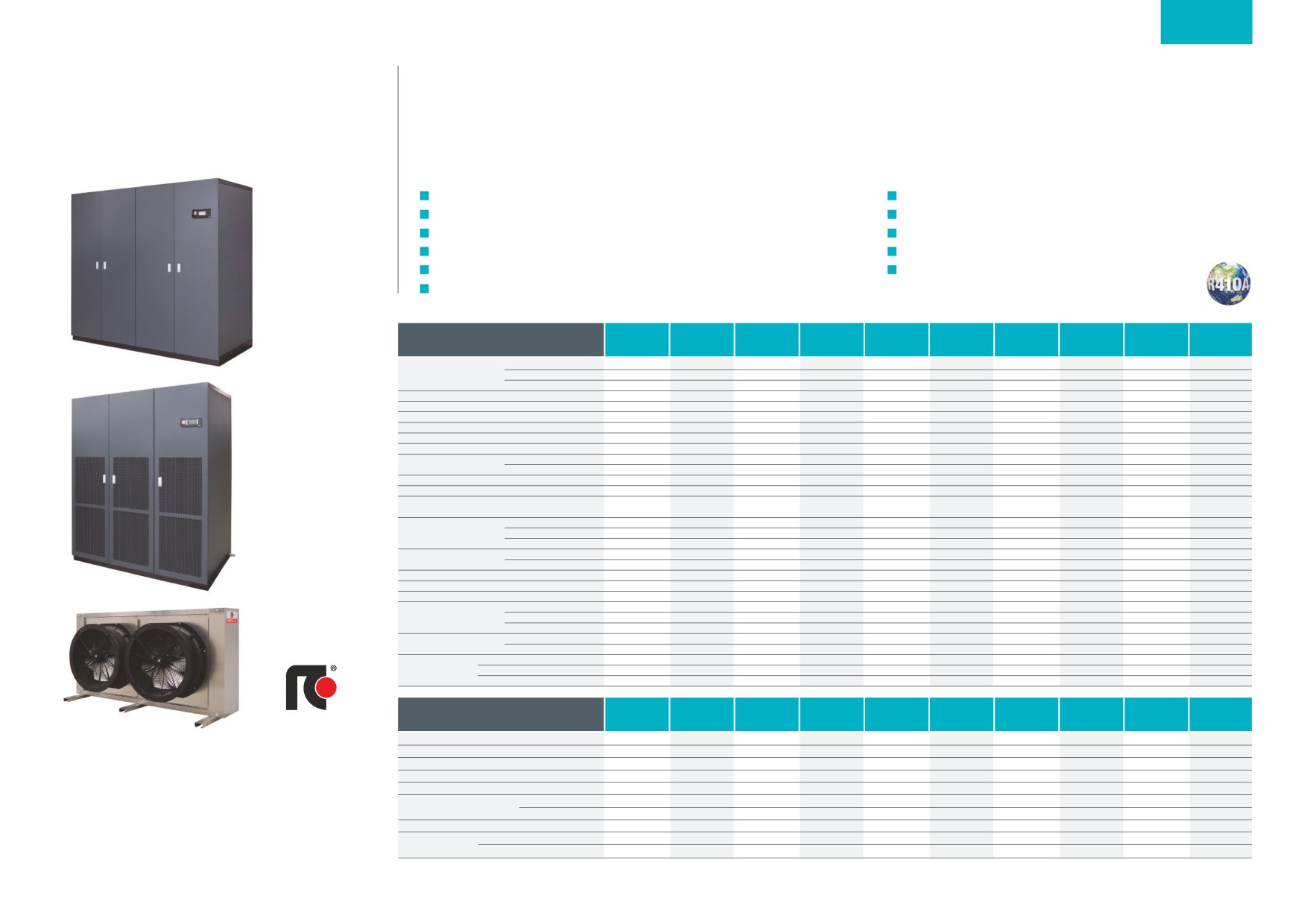 High precision air conditioners are ideal for applications where high sensible cooling and close control of
temperature and humidity are required.
The i-NEXT direct expansion air cooled range incorporates full inverter driven BLDC Mitsubishi Electric compressors and a new
R410A Close Control System
microchannel coil remote condenser, perfect for keeping room conditions constant under varying loads, whilst being highly efficient.
Perimeter unit with downflow and upflow configurations
Return air temperature operating limits up to 40°C
Full inverter technology with BLDC Mitsubishi Electric compressors
New microchannel coil remote condensers with AC axial fans
Ultralight composite EC plug fans resulting in reduced noise and power usage
Optional Modbus RS485 and BACnet TCP/IP connectivity
Integrated control of up to 10 units for intelligent redundancy management
Optional electrical heater and steam humidifiers
Front access to main components for easy inspection and routine maintenance
Optional floor stands and discharge plenums
Automatic restart from power outage
(Computer Room Air Conditioning)
EXTERNAL STATIC PRESSURE (Pa)
MAX EXTERNAL STATIC PRESSURE (Pa)
Extended filtering surface (m²)
Efficiency [ISO EN 16890] (COARSE)
SOUND LEVEL dB(A) (ISO3774)
*
5
Downflow - Power / Pressure
Upflow - Power / Pressure
Refrigerant pipe diameter - Gas (Ø mm)
*
7
Refrigerant pipe diameter - Liquid (Ø mm)
*
7
THE COOLING CAPACITY DOES NOT CONSIDER THE SUPPLY FAN MOTOR THERMAL LOAD
*1 Downflow version only.
*2 Gross value based on return air at 26°C - 40%RH; Ambient Temperature 35°C
with above condenser(s) models.
*3 SHR = Sensible cooling capacity / Total cooling capacity.
SOUND PRESSURE LEVEL (dB(A))
*
5
*4 Compressor(s) & Fan(s) input power (ESP=20Pa) - Remote air cooled condenser not included.
Horizontal Airflow (W x D x H)
*5 Average level at 1m from unit in free field conditions.
Vertical Airflow (W x L x H)
*6 In 2(1+i) configuration, 2 inverter driven with 2 direct online.
*7 Please refer to i-NEXT databook for interconnecting pipework size.
Refrigerant pipe diameter - Gas (Ø mm)
*
7
*8 Rubber pipe - refers to internal diameter.
Refrigerant pipe diameter - Liquid (Ø mm)
*
These units contain <HFC R410A [GWP100 2088]> fluorinated greenhouse gas.