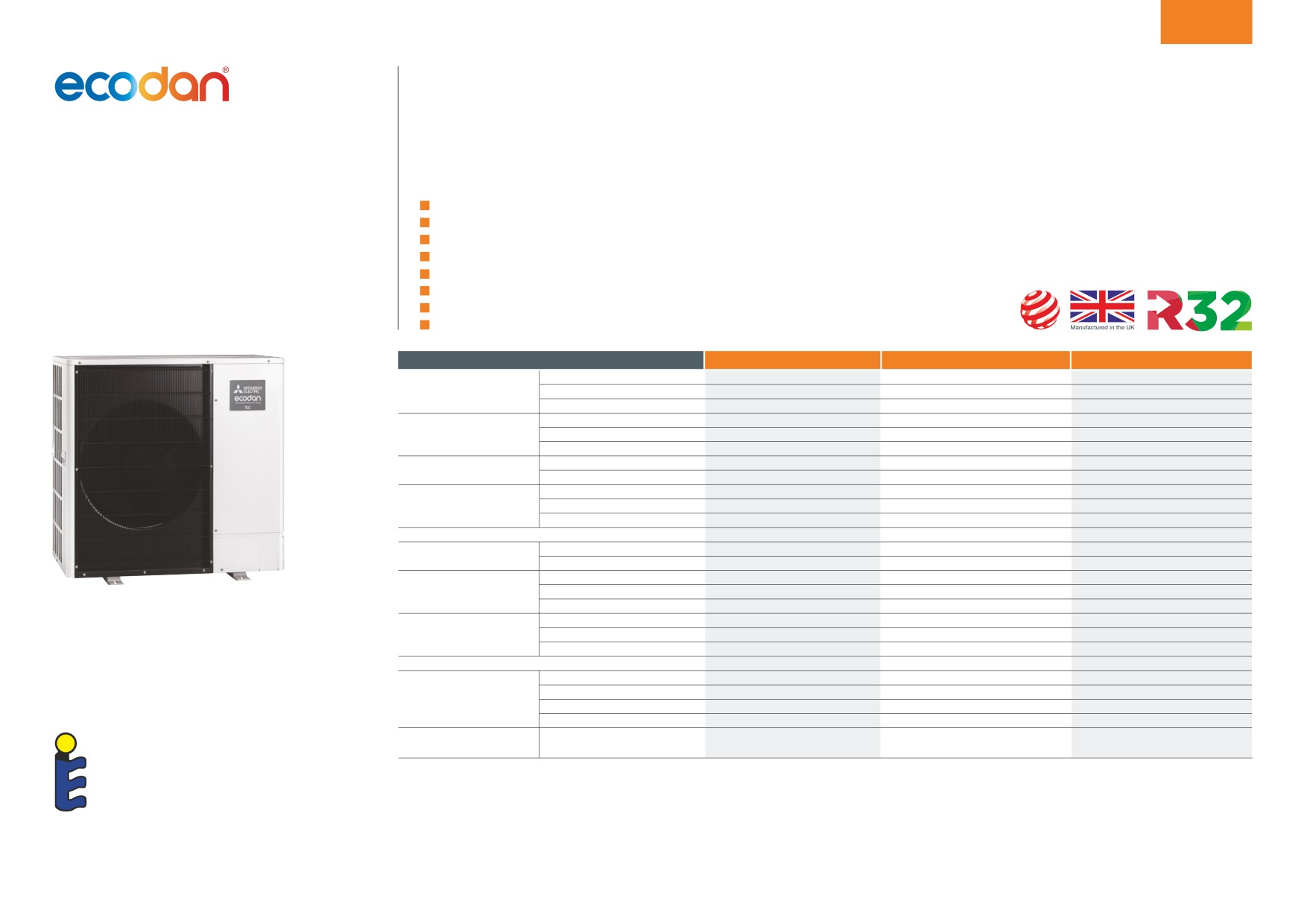 The multiple award winning range of Ultra Quiet AA chassis Ecodan monobloc air source heat pumps are
designed specifically to suit the demands of the UK market and includes 6.0, 8.5 and 11.2kW sizes.
The innovative, stylish and compact single fan outdoor unit utilises advanced technologies to deliver improved efficiencies. Designed
for a wide range of applications, the market leading low noise levels virtually eliminate the need for planning permission, maximises
installation options and is a viable solution for all types of domestic requirements that the UK housing market demands.
Self-contained unit, only requiring water and electric connections
No need for gas supply, flues or ventilation
Low maintenance and ultra quiet operation
Operates with outside temperatures as low as -25ºC
Optimised low ambient defrost control and operation down to -7ºC
Hybrid function, for use with conventional boilers
Energy monitoring as standard
Multiple unit cascade function
OPERATING AMBIENT TEMPERATURE (°C DB)
Pressure Level at 1m (dBA)
Water Pressure Drop (kPa)
Nominal Running Current [MAX] (A)
*5
Fuse Rating - MCB Sizes (A)
*1 Combination with E*PT20X Cylinder
*2 Under normal heating conditions at outdoor temp: -7°CDB / -8°CWB, outlet water temp 35°C, inlet water temp 30°C.
*3 Under normal heating conditions at outdoor temp: 7°CDB / 6°CWB, outlet water temp 55°C, inlet water temp 47°C as tested to BS EN14511.
*4 Sound power level tested to BS EN12102.
*5 Under nominal heating conditions at outdoor temp: 7ºC, outlet water temp: 35ºC.
*6 MCB Sizes BS EN60898-2 & BS EN60947-2.
Certificate Number: 037-0033-20 / 037-0034-20
Product Reference: PUZ-WM60/85VAA(-BS) / PUZ-WM112VAA(-BS)
ɳ
s
is the seasonal space heating energy efficiency (SSHEE)
ɳ
wh
is the water heating energy efficiency