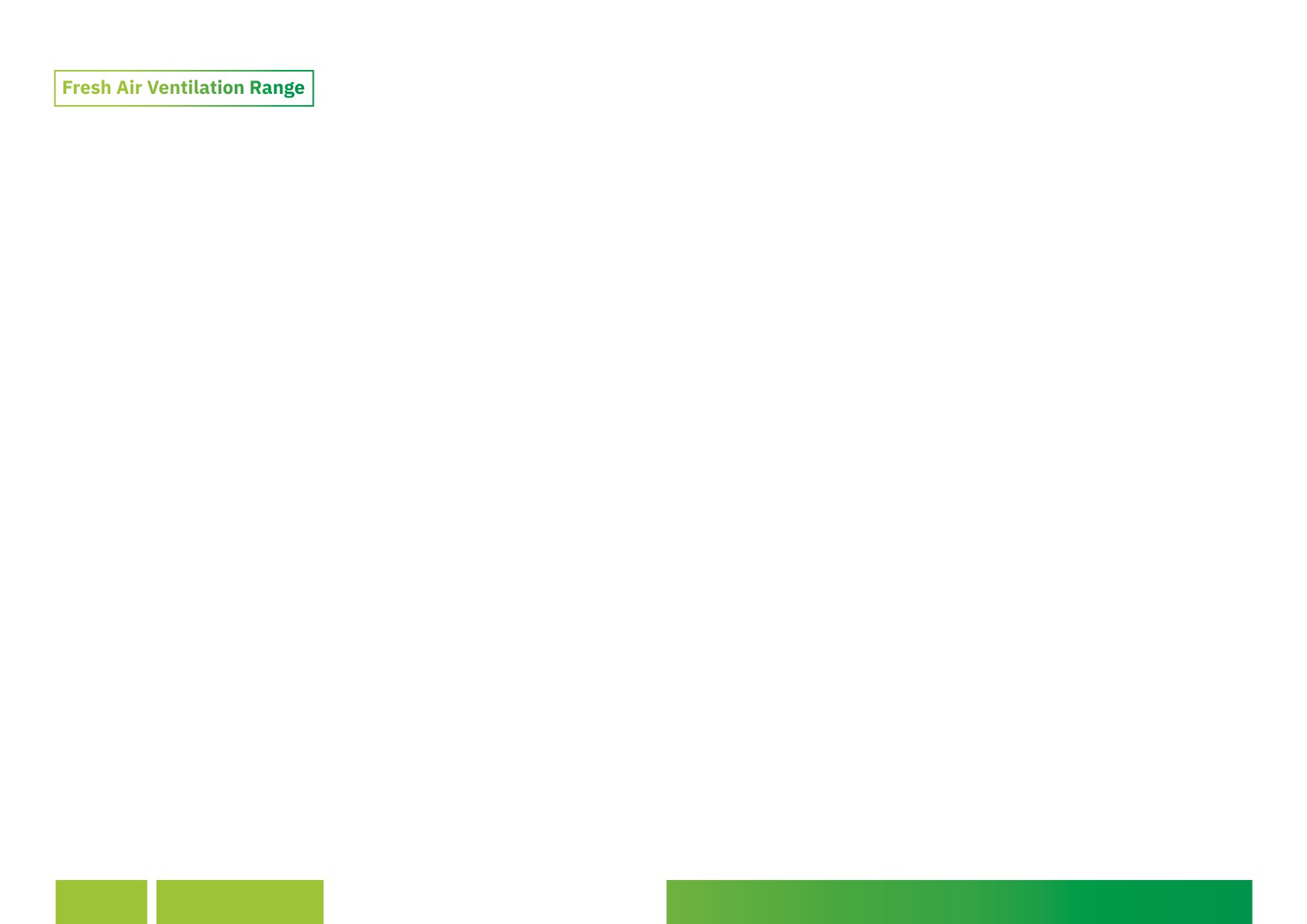 LGH-RVX-E Commercial Lossnay
LGH-RVXT-E Commercial Lossnay
VL-100(E)U
5
-E Wall Mounted Lossnay
VL-220CZGV-EB Residential / Light Commercial Lossnay
GUG-SL-E Lossnay Air Processing DX Unit - Return Air Temperature Control (5.6-15.8kW)
GUG-SL-E Lossnay Air Processing DX Unit - Return Air Temperature Control (15.8-22.3kW)
GUG-SL-E Lossnay Air Processing DX Unit - Supply Air Temperature Control (8.3-17.6kW)
GUG-SL-E Fan Curve Characteristics
GUF-RD4 Lossnay Outdoor Air Processing Unit
WizardX E-OU Air Handling Unit
Accessories / Optional Extras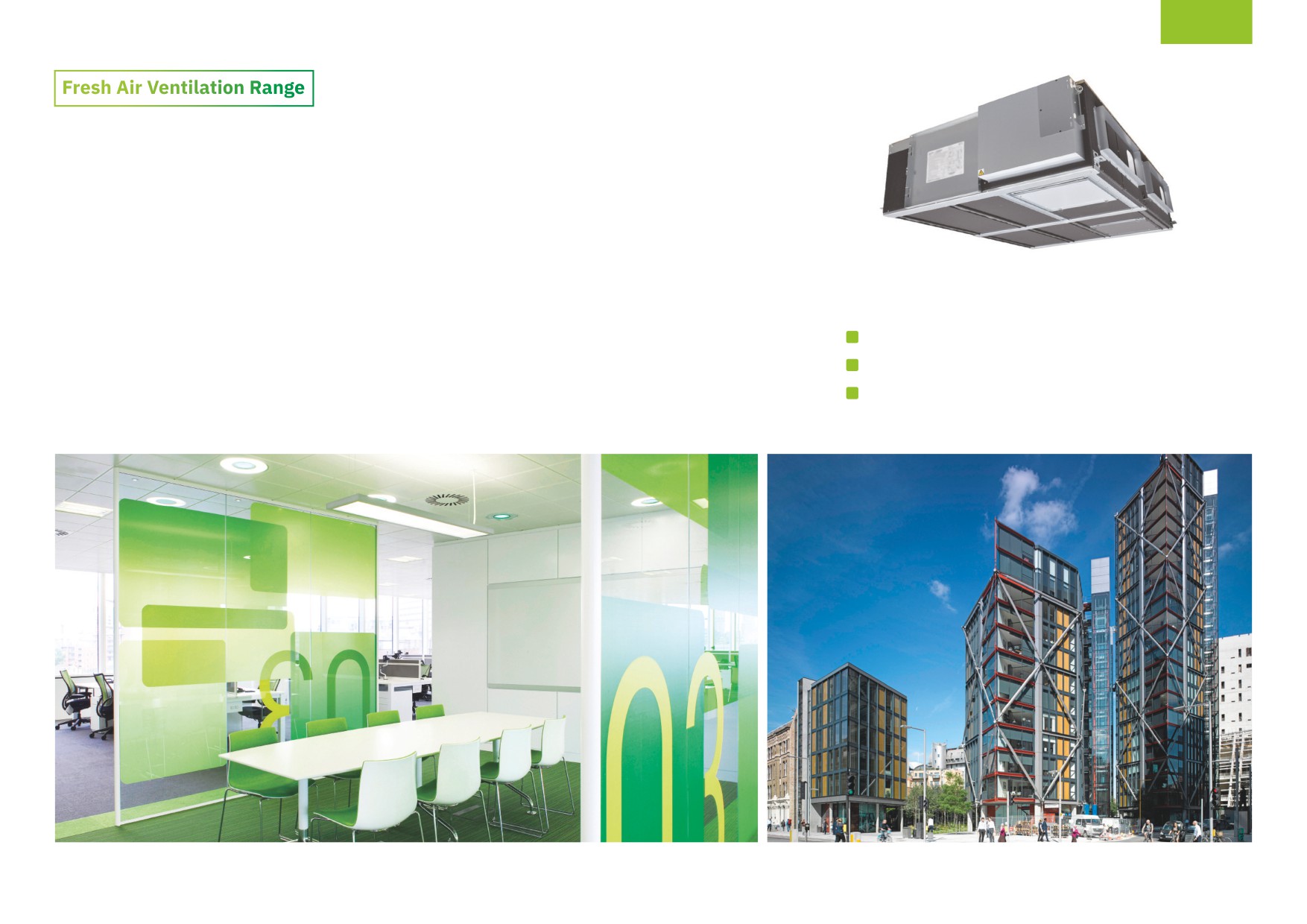 Why Do We Need
Fresh Air Ventilation
?
The build-up of health damaging pollutants, mould and rot are all attributed to poor
indoor air quality and the lack of effective ventilation.
With highly airtight buildings on the rise, alongside increasingly strict legislation on air quality, the need is growing for
Fresh air benefits include:
an effective solution such as mechanical ventilation, which is also energy efficient. Mitsubishi Electric systems are
perfectly placed to address this need and are the ideal solution to provide fresh air.
A healthy and better maintained building
Our range includes single and multi-room Mechanical Ventilation with Heat Recovery (MVHR) units and medium to
Improved air quality for occupants
large scale ventilation solutions including Air Handling Units (AHUs). All systems have been designed to provide
the best ventilation solution for the chosen application, by delivering the required amount of fresh air,
Improved comfort via the recovery of
whilst extracting the right amount of stale air, in the most energy efficient way possible.
heat to incoming fresh air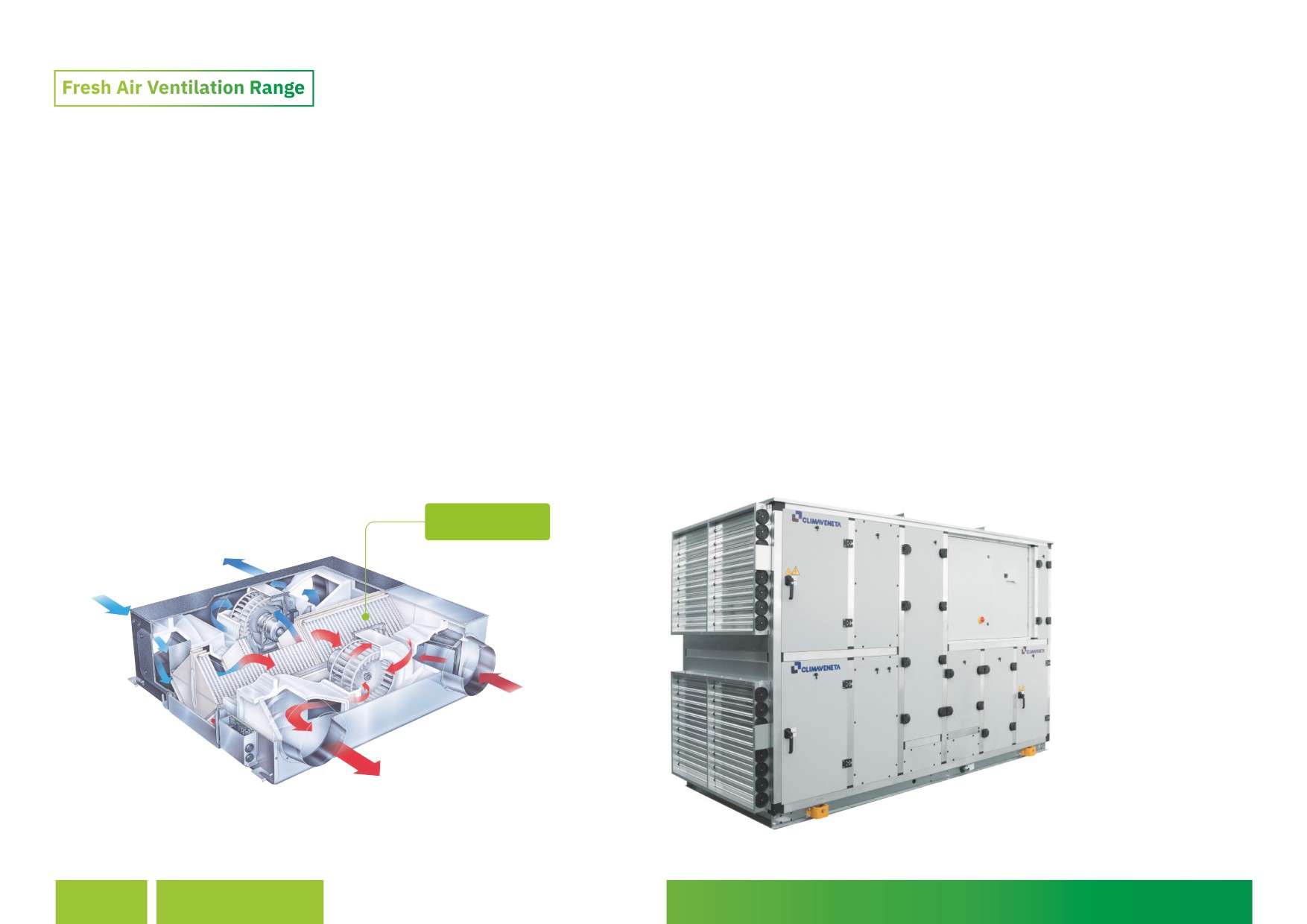 Excellent Air Quality and Heat Exchange Efficiency
How Air Handling Units work
Our Lossnay systems have perfected the recovery of energy that
Packaged Air Handling Units (AHUs) are designed to provide a
would have otherwise been wasted. They do this by either
tempered fresh air supply into commercial buildings. They work in
warming or cooling incoming air, a feature which makes
conjunction with the building's air conditioning system to provide
Mitsubishi Electric MVHR units extremely energy efficient.
occupants with a fresh and comfortable environment.
Heat Recovery is made possible via the unique Lossnay ultra-thin paper core
The technology behind the Climaveneta Wizard AHU includes a highly efficient heat recovery
technology, which is constructed in a corrugated form and layered in
thermal wheel to transfer heat between the supply and return air. By capturing and reusing
this heat before it leaves the building, substantial energy savings can be made.
This design allows a cross airflow to maximise heat recovery without the supply
This technology can also provide free cooling and benefits
and exhaust air mixing, ensuring only fresh air is introduced to the building.
from fully integrated, intelligent controls.
Fresh Air Ventilation Range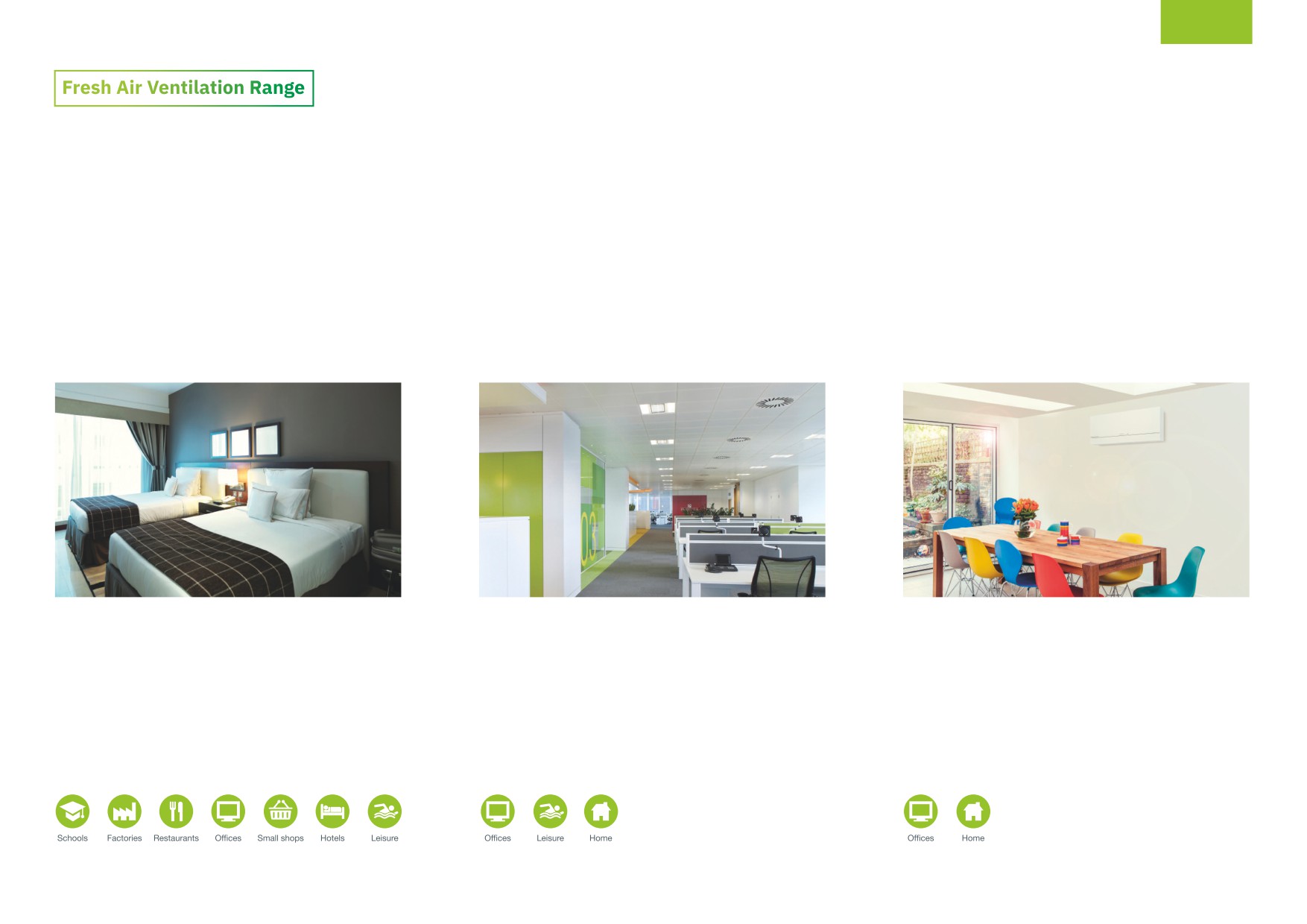 The Lossnay range of units have been developed to suit both commercial and domestic applications and benefit from heat recovery technology,
ensuring effective fresh air ventilation whatever the type of building. The GUG air processing unit has been designed for use with the LGH range
of Lossnay units to provide a full heating, cooling and ventilation solution for commercial applications.
Exceptional ventilation for commercial applications
Maximum efficiency and minimal energy use
With 12 units available, the RVX(T) range of MVHR
The ceiling ducted VL-220 Mechanical Ventilation with Heat
The wall mounted VL-100 is a single room total heat
units cover a wide range of air volumes making
Recovery (MVHR) unit is an energy efficient whole-house
exchanger, suitable for applications such as small
them suitable for most commercial applications.
ventilation solution, which is also suitable for applications
such as small commercial.
As well as a simultaneous supply of fresh air with an
It is compact, easy-to-install and enables a fresh,
extraction
of stale air and heat recovery, efficiency is
It simultaneously supplies fresh air, whilst extracting stale
clean and healthy internal environment to be
further enhanced with a free cooling function that
and moist air from kitchens and bathrooms, enabling
maintained, whilst helping to reduce energy bills.
lowers the cooling demand of a building and
maximum heat recovery and dwelling welfare benefits.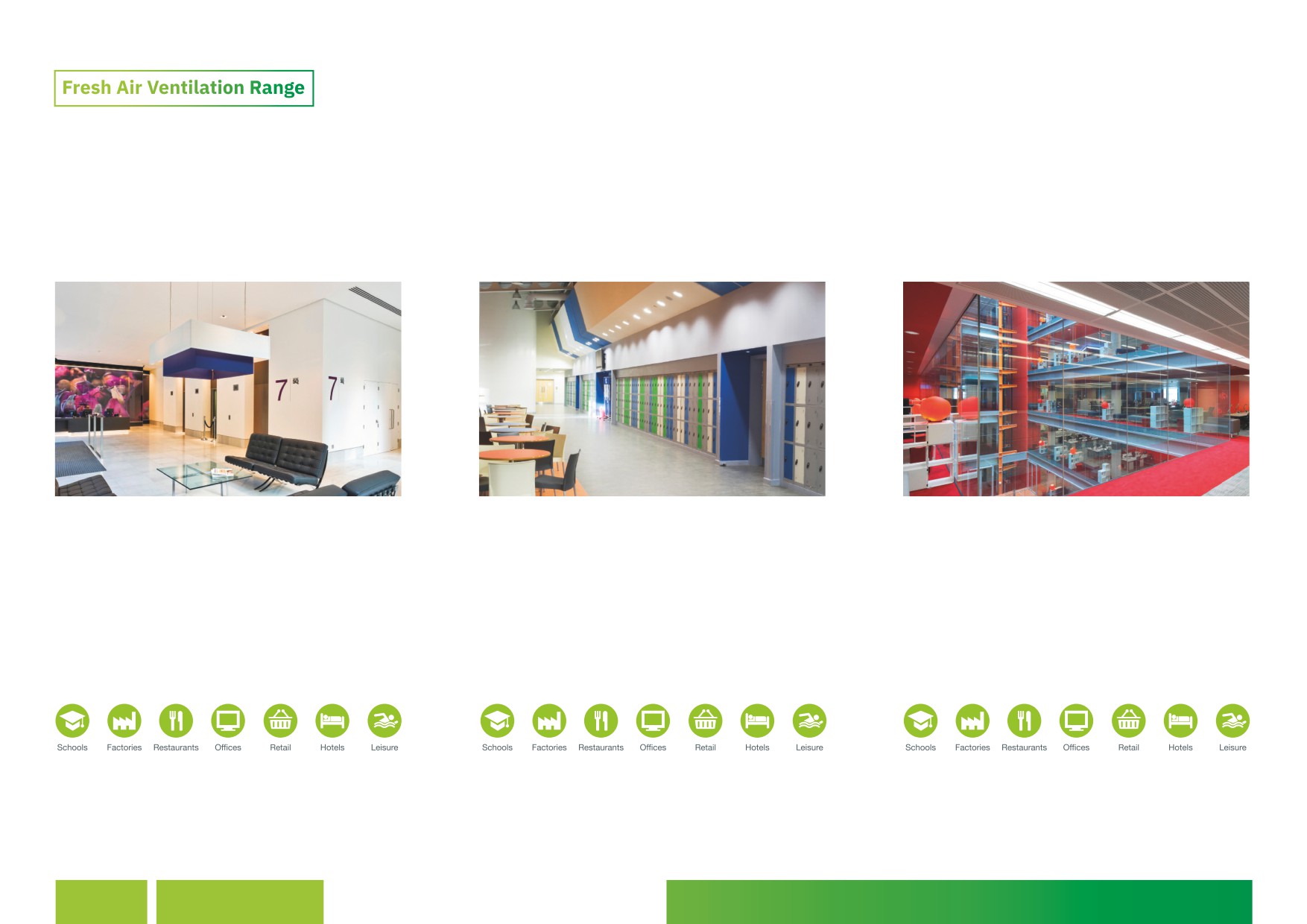 Enhanced ventilation for LGH-RVX(T) units
Enhanced ventilation with City Multi VRF
Large scale commercial ventilation systems
Available in three sizes, the GUG is an air processing unit
Available in two sizes, the GUF is an outdoor air processing
The new Climaveneta Wizard AHUs, which range from
which works in conjunction with Mr Slim R410A outdoor
unit which works in conjunction with City Multi outdoor
0.83m
3
/s up to 5.56m
3
/s, benefit from thermal wheel
units to heat and cool the supply air from a Lossnay
units to provide ventilation, dust removal and heat
heat recovery technology and are fully compliant
recovery to help maintain a healthy indoor air quality.
The combination of these three products effectively
These systems utilise Mr Slim Power Inverter technology
creates an air handling system, which can supply
and feature integrated controls making them highly
fresh air efficiently to commercial applications.
advanced, flexible and efficient.
Fresh Air Ventilation Range